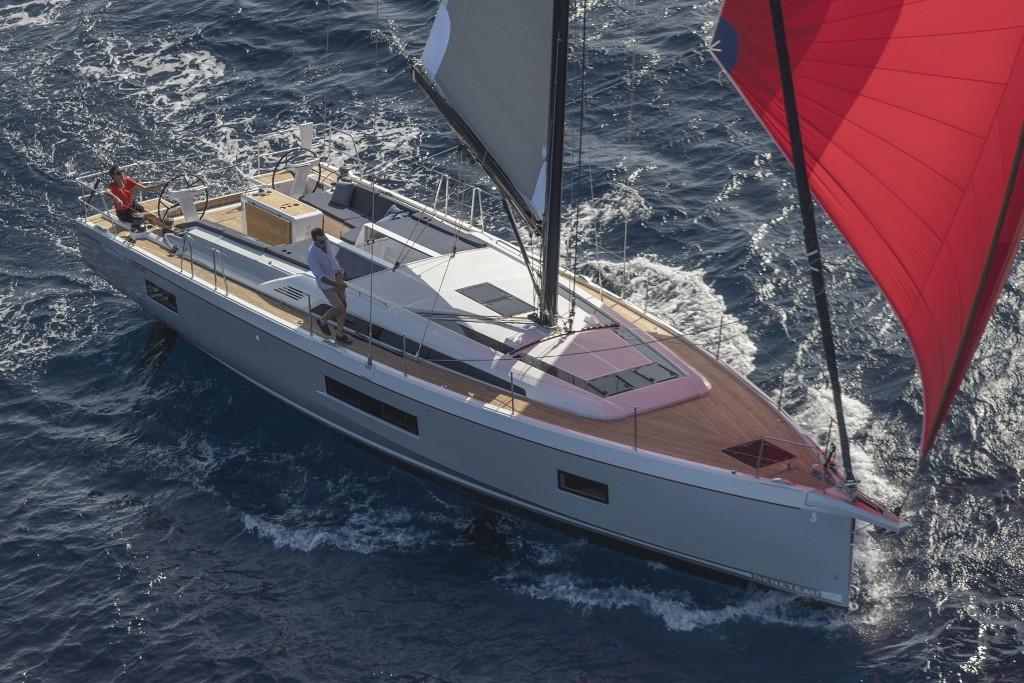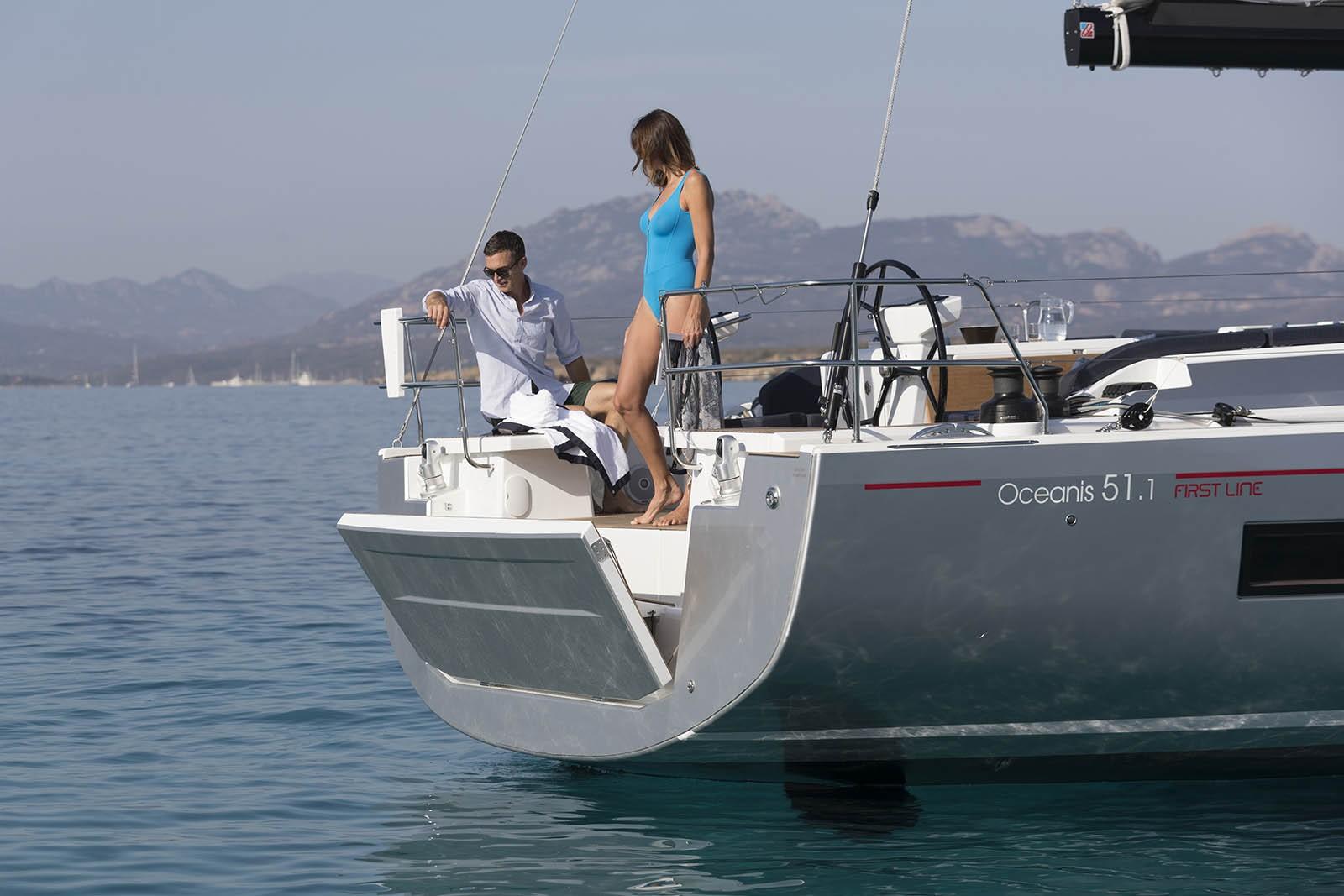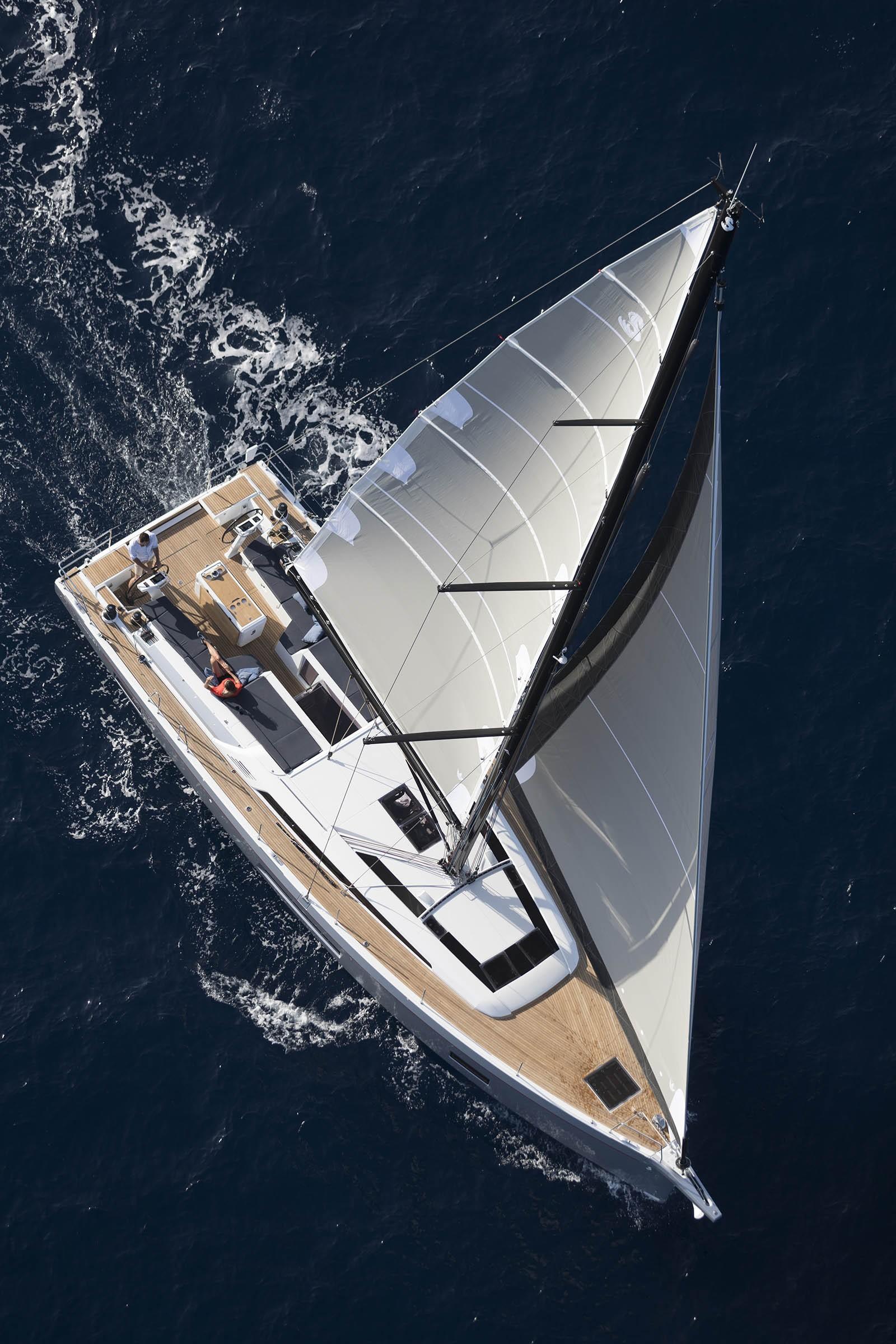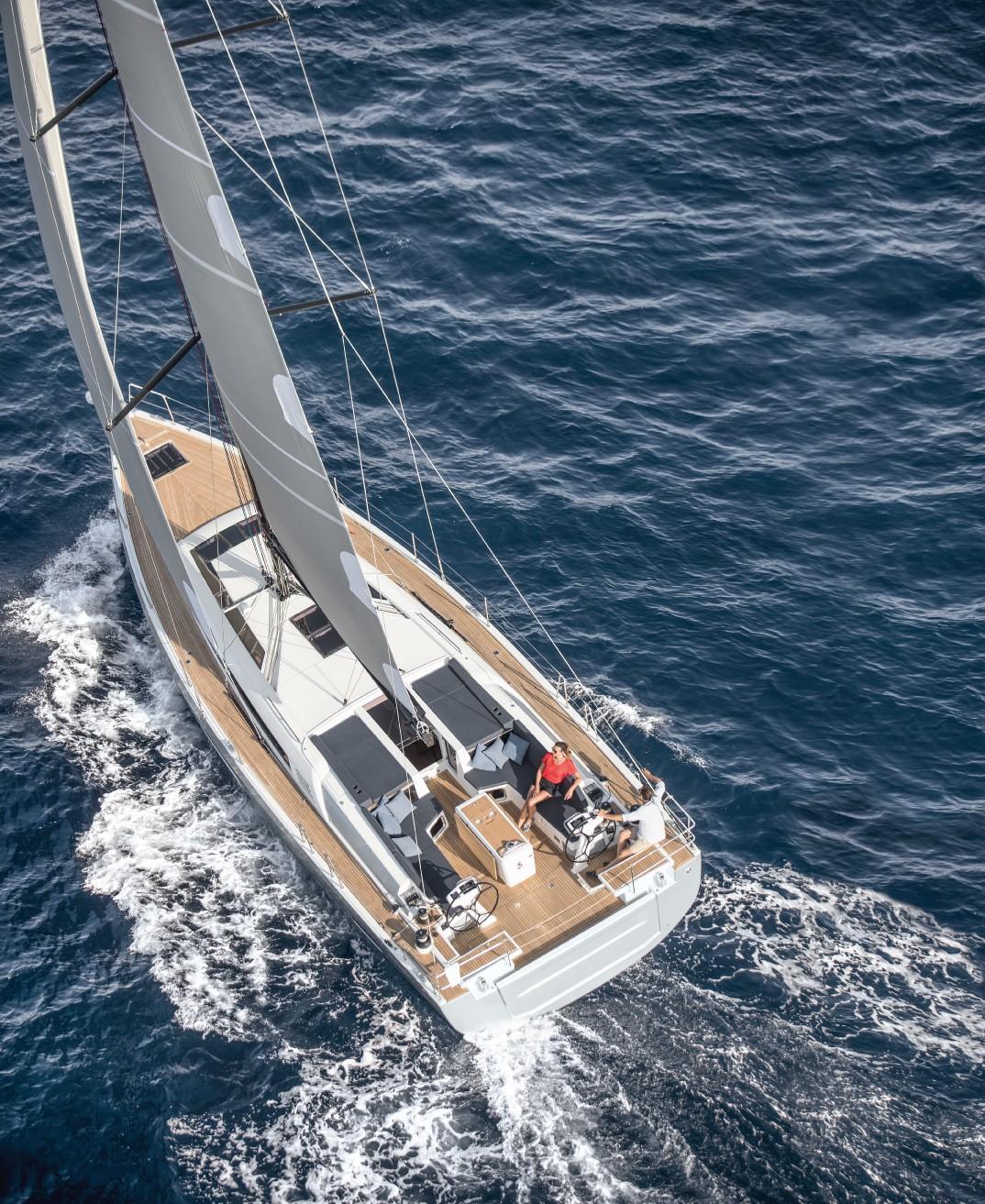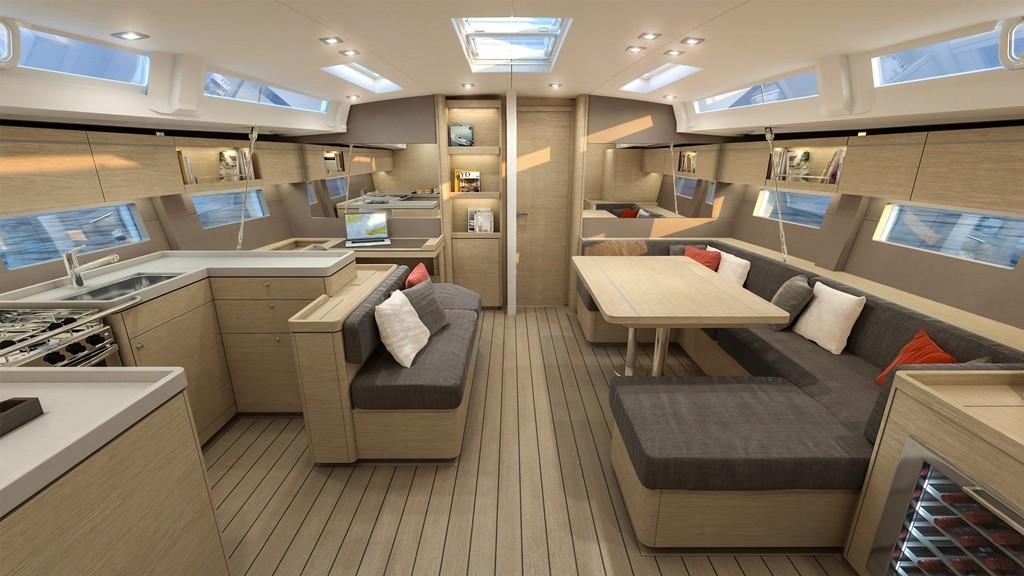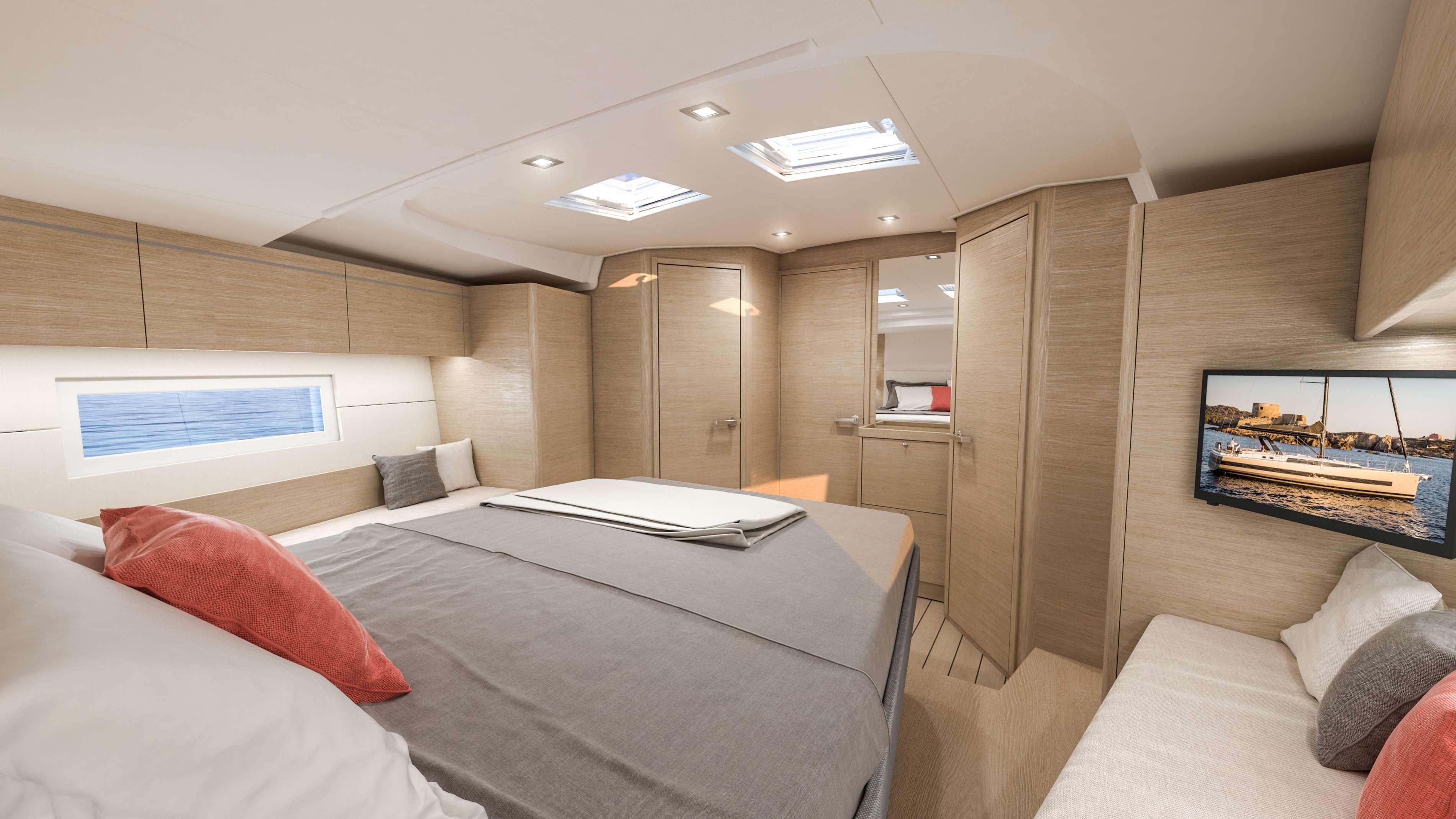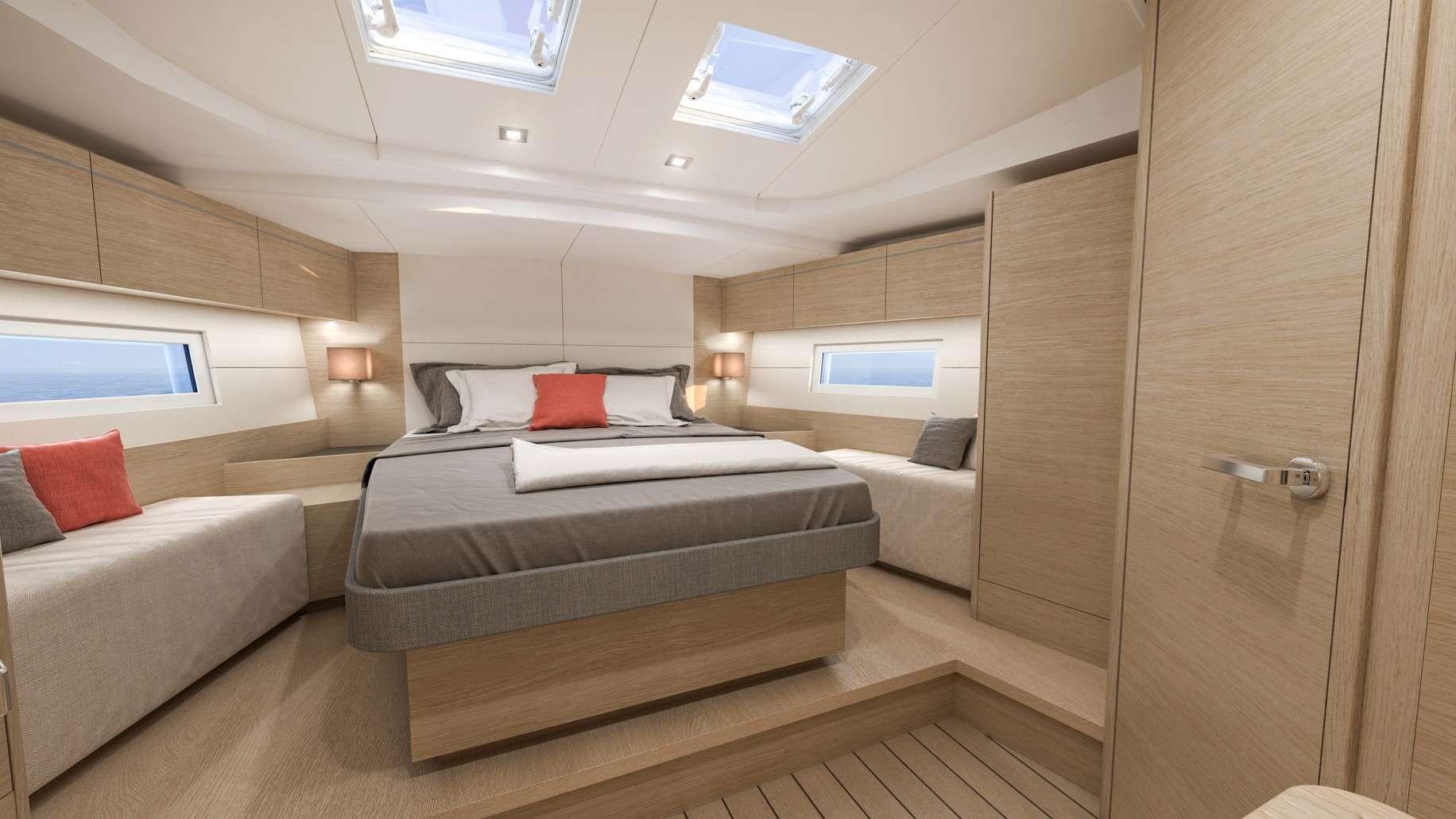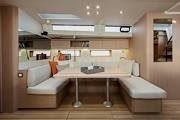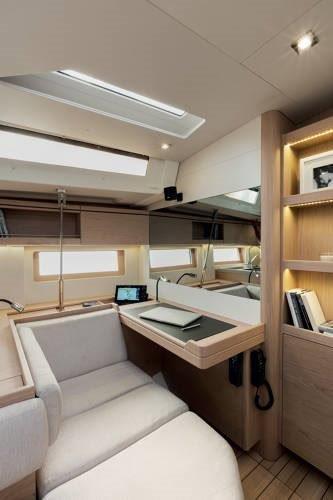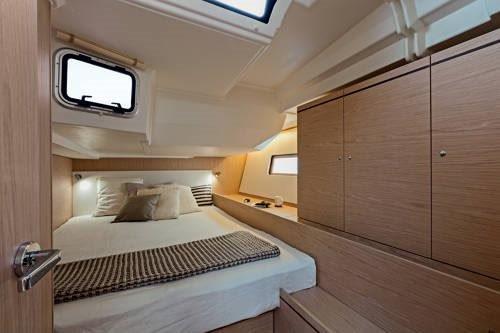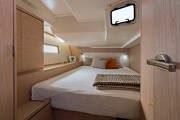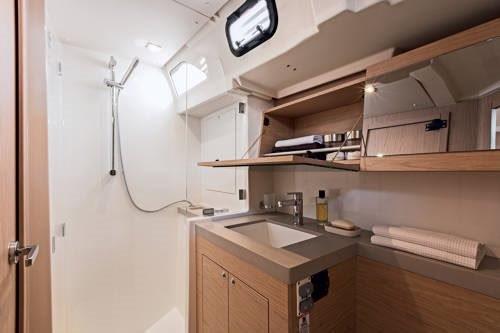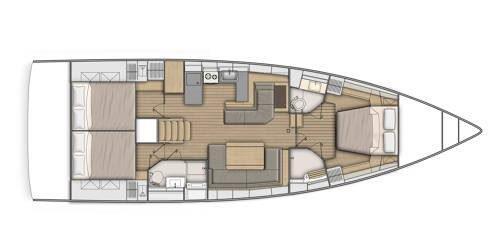 View Video
Description
Excellent chance to buy the only New Beneteau Oceanis 51.1 for sale for this year.
General Information
Year Built: 2023
Hull Material: GRP
Designer: Berret Racoupeau Yacht Design
Measurements
Length: 52.3 ft
Beam: 4.8 meter
Min Draft: 2.36 meter
Max Draft: 2.36 meter
Length Overall: 15.94 meter
Length at Waterline: 14.98 meter
Dry Weight: 3396 kilogram
Engines
Number of Engines: 1
Engine Model: 4JH110
Fuel Type: Diesel
Propeller Type: 3 Blade, Bronze, Folding
Total Power: 110 hp
Manufacturer Provided Description
With taut lines, a new stepped hull and a stylish deck plan, the Oceanis 51.1 is the first of a new generation. 
Easy to handle, comfortable and smart, the number of customizations available has been increased to provide more than 700 combinations.
One third of the Oceanis 51.1's hull is now stepped. In addition to the aesthetics of this flared shape, the new hull creates additional interior space allowing for exciting new layouts on a boat this size. 
With emphasis on taut cruiser lines, she is a joy to move around and reassuringly safe. 
The spacious cockpit, many relaxation and sun bathing areas, as well as an aft swim platform, promise true comfort. 
The large hull portholes bathe the boat in light and elegantly emphasize the interior design by Nauta Design creating a wonderful atmosphere. 
A choice of brushed oak or mahogany woodwork ambiances increases the opportunities for customization.
Construction
Design in accordance with European Directive requirements and according to CE certification
Infusion hull (Polyester / Sandwich balsa wood)
Structural single skin infusion inner moulding (Fabrics - resin) bonded to the hull
Injection moulded deck in glass fibre/balsa sandwich, covered with "diamond-point" non-slip coating
Infusion single-skin GRP injection inner deck moulding
Deck hull joint screwed, bonded and banded with 1 solid wood bulwark
Cast iron keel fixed with bolts and stainless steel backing plates
Hung rudder with stainless steel stock
White coloured hull - Grey metal hull graphics
8 large hull ports
Deck Equipment
RIGGING
Standard mast 9/10 anodized aluminium installed on the deck, 2 aft-swept spreaders in mast furling.
Anodised aluminium boom
Discontinuous stainless steel standing rigging
2 Backstays with bottlescrews
Rigid boom vang with tackle
Genoa furling system with drum on the deck
2 Stand Up blocks for mainsail on fixed composite arch
2 Genoa tracks with piston adjusted traveller cars
2 Genoa sheet turning blocks
Rigging run back to cockpit (except boom topping lift)
Complete running rigging: Main halyard, genoa halyard with clutch on mast and cleat, Boom topping lift with cleat on mast, Mainsheet, 2 Genoa sheets 2 rapid reefing lines, 1 manual reef
11 Jammers
2 lockers for rope tails near helm stations
WINCHES
2 Self-tailing genoa sheet winches (H60.2 STC)
2 Self tailing coachroof winches (H46.2 STC)
2 Aluminium winch handles Speed Grip
2 Winch handle boxes
HALYARDS
Completely hidden
GRP halyard cover from mast foot to the back of the cockpit
SAILS
Furling genoa with UV protective strip
Mainsail In mast furling with logo
MOORING LINES - MOORING
Self-draining chain locker with eye bolt for bitter end
12 V - 1500 W vertical electrical windlass - Remote control
8 Aluminium mooring cleats, Length: 400mm / 1'4'' - Stainless steel deckline protection
SAIL LOCKER
Access through deck hatch T70, Passage width: 62 cm / 2'
Stainless steel ladder
Shelving
Direct access to the anchor well, Panel: T44
SAFETY ON DECK
1 Open stainless steel forward pulpit
2 Stainless steel pushpits
1 Lifebuoys support bracket
1 Outboard engine bracket
Ring for flag welded on pushpit
Double guardrail and stainless steel stanchions, 750mm / 2'6'' - Openings in guardrail to port and starboard
COCKPIT
Self-draining cockpit
2 Cockpit locker
2 Lockers in cockpit sole beneath helm's feet
1 Liferaft locker under helm seat (0,95 m x 0,42 m x 0,59 m (Deep) /3'1'' x 1'5'' x 1'11'' (Deep))
1 Gas locker for bottle(s) in cockpit sole
Natural solid wood slatted cockpit benches
2 Steering wheel consoles: Stainless steel steering wheels - 900 mm diameter - Leather covered - Steering gear at the helm station - metal cable transmission system - Cup holder in stainless steel
2 Deck access points to tiller system + Power supply access hatch
1 Emergency tiller
2 Steering compass
Engine throttle and control panel to starboard
Polyester cockpit table - 2 Leaves - 2 side tables at the end of the table - miscellaneous locker - 1 Cooler - 1 Stowage - 2 large stainless steel handrails - 12 V socket - lamp with shade
Hot/cold water cockpit shower
1 Fixed composite arch - Integrated lights LED - 4 Handrails
1 shore supply socket to starboard
2 sunbathing areas to either side of the companionway
2 Hinged PMMA companionway doors - Sliding hatch made of PMMA
SWIM DECK / STERN DECK
Fully opening transom, convertible to bathing platform (2,85 m x 0,77 m /9'4'' x 2'6'')
Electrically controlled opening
Natural solid wood decking on swim platform
1 Stainless steel bathing ladder, folding - solid wood steps
Interior (3 Cabins 2 Bathroom version - Light Oak)
Woodwork Alpi Light Oak 
Parquet type laminated floors
Fabric hull linings in saloon and cabins
Interior upholstery, in fabrics
Marine mattresses in the cabins
COMPANIONWAY
Headroom: 1,97 m / 6'6''
Wooden saloon companionway with moulded wood suspended steps with non-slip surface
2 Leather covered stainless steel handrails
SALOON
Headroom: 1,98 m / 6'6''
To starboard: Saloon bench seats, Removable backrest - double density foam
Saloon table in 1 piece - Varnished wood top with inlay - 2 Aluminium legs
to port: Large sofa (2 m / 6'7'')
Mirror on bulkhead, at base of companionway
Cupboards - Shelves and stowage along the hull - Storage under bench seats
Shelving with chrome fiddles
2 Panoramic deck house windows with concertina blinds
2 Hull portholes with curtain
2 Opening portholes on coaming in side windows
2 Flush deck hatches with mosquito blind
2 Stainless steel handrails, on deckhead
CHART TABLE - STARBOARD
Table with flap - Moulded wood fiddle - Brown leather trim
1 modulable seat (0,49 cm - 1,16 m / 1'7'' - 3'10'') with pivoting backrest
Switch panel on bulkhead for access to electrical functions
Navigation instrument panel (without instruments)
1 Reading light, flexible and multi-directional
1 Overhead light
GALLEY - PORT SIDE
Headroom: 1,95 m / 6'5''
U-shaped galley
Kerrock grey worktop
1 Sink in grey Kerrock - moulded into the work surface - 1 Mixer tap with hot/cold water under pressure
1 Gas cooker 2 burners - Stainless steel oven on mountings - 1 Stowage, beneath the oven
1 12 V 100 litre ice box, top opening
1 12 V 130 litre refrigerator, front opening
Fitted lockers and closed shelving (Shelving, Bin)
1 Base cabinet: 3 Drawers - 1 Stowage
Storage space along the hull
2 Opening ports on coaming with curtains on side windows
FORWARD CABIN
Headroom: 1,93 m / 6'4''
Central double bed (2,10 m x 1,82 m x 1,14 m / 6'11'' x 6' x 3'9'') Island bed type, mounted on gas struts
2 flexible and multi-directional reading lights at bedhead
1 full width mirror above bedhead
Hanger closets - Valet tray - Shelving - Base cabinet - Storage space under bed
1 chest of drawers, 4 drawers with sliding upper surface to function as either a desk or dressing table with a special built-in laptop stowage, built-in power socket. Removable seat with floor fixing system. Mirror on bulkhead above chest of drawers
2 Flush deck hatches with mosquito blind
2 Hull portholes with curtain
2 fixed windows to forward end of coachroof with built-in blinds
FORWARD CABIN TOILET 
Completely built in to the cabin with:
To starboard
1 Pearl grey GRP basin built into the grey Kerrock work surface, Hot/cold water mixer tap. Storage space under the basin, 2 shelves
1 Bathroom storage cabinet
1 Mirror
1 Glass shower cabin with flush access and stowage on the bulkhead, Grey Kerrok work surface with self-draining stowage tray. 1 Natural wood seat. Shower base in pearl grey GRP. Grey laminated bulkhead
1 Flush deck hatch with mosquito blind
to port:
Separate manual marine WC
1 80 L / 21 US Gal rigid holding tank
1 Pearl grey GRP basin built into the grey Kerrock work surface, Hot/coldwater mixer tap, with hose for use as shower
Shower base in pearl grey GRP. Grey laminated bulkhead
1 Bathroom storage cabinet, Mirror
Toilet accessories
Storage space along the hull
1 Flush deck hatch with mosquito blind
STARBOARD AFT HEAD COMPARTMENT
Headroom: 1,91 m / 6'3''
Access through saloon
Separate shower - 1 Hot/cold water mixer tap - Stowage on bulkhead - Grey Kerrok work surface with self-draining stowage tray.¨Shower base in pearl grey GRP
1 Manual toilet
1 80 L / 21 US Gal rigid holding tank
Basin - 1 Hot/cold water mixer tap
1 Bathroom storage cabinet
Storage space under the basin
2 Mirrors
Toilet accessories
1 Opening portlight with curtains in side windows in the coaming
STARBOARD AFT CABIN
Headroom: 1,95 m / 6'5''
1 Double bed (2,03 m x 1,37 m x 1,70 m / 6'8'' x 4'6'' x 5'7'')
Cupboards, Hanging locker, Closed shelving, Stowage on both sides of berth
1 Large size hull port with curtain
1 Opening deck hatch with mosquito blind
1 Opening cockpit port with curtain
1 window onto cockpit - beneath the lounger
PORT AFT CABIN
Headroom: 1,95 m / 6'5''
1 Double bed (2,03 m x 1,18 m x 1,50 m / 6'8'' x 3'10'' x 4'11'')
1 Plenty of stowage space, Beam: 106 cm / 3'6''. Upper part: 1/3 Hanging locker, 2/3 shelves. Lower part: Large drawers
Closed shelving, stowage along the length of the berth
Cupboards, Hanging locker, Closed shelving
1 Large size hull port with curtain
1 Opening deck hatch with mosquito blind
1 Opening cockpit port with curtain
1 window onto cockpit - beneath the lounger
Engine
Engine Yanmar Diesel:
110 HP, Shaft Drive, Common Rail
Engine control - Control panel in cockpit starboard
Engine compartment: Soundproofing foam - Ventilation: 2 air intakes and 1 pressured air outlets
1 Alternator 12 V / 125 Ah
2 Rotation moulded diesel tank 200 L / 53 US Gal (under port aft berth and Starboard) - Electronic gauge - Low level alarm - 2 Deck fillers
Filters: Sea water - Diesel - Water separator
Fixed three blades propeller
1 Engine access through companionway (opening with 2 gas struts) - 2 Engine access through aft cabins
Electrical
12 V circuit
4 service batteries (140 Ah) - 1 Engine battery (110 Ah)
1 Power distributor
1 60 Ah Battery charger
12 V Electrical panel (Fuses - Voltmeter - Water gauge - Fuel gauge - Battery warning - Fuel warning - Water warning)
7 220 V Sockets
2 12 V Sockets
Lighting: Overhead lights - Reading lights - Reading light, flexible and multidirectional
Navigation lights: 1 Forward and aft navigation lights - 1 Engine navigation light / Spreader light forward of mast - 1 Anchor light on masthead
Wire runs for options cables
Water System
1 rotomoulded freshwater tank (324 L / 86 US Gal, Starboard saloon) - 1 rotomoulded freshwater tank (330 L / 87 US Gal, Forward cabin) - 2 Deck fillers - Separate tank filling - Tank selection with "¼ turn" by-pass valves
Pressurised electric water pump - Expansion tank - Inline filter
40 L / 11 US Gal Electric calorifier (engine start)
1 Rigid 80 L / 21 US Gal black water holding tank for each WC
Delayed shower draining and electric shower drain pumps
1 Electric bilge pump - 1 Manual bilge pump
1 Electric ice box drain pump
Gas
1 Gas bottle box in the cockpit (Diameter 0,34 m x 0,53 m / 1'1'' x 1'9'')
Regulator and safety tap
Factory Defined Options
YANMAR 4JH110 CR 81KW (110HP) DIESEL

DEEP CAST IRON KEEL

3 CABINS 2 HEADS VERSION - WHITE OAK ALPI

WINNER SILVER 139 UPHOLSTERY IN SALOON

COMFORT TRIM LEVEL
Cockpit bench extensions + 2 halyard bags below
Hifi: Fusion + Interior loudspeakers & Waterproof exterior speakers
Galley: Stainless steel cooker 2 burner oven/grill on gimbal
Galley: Refrigeration system, 12 V, in top-opening icebox (for storage below 0°C) Galley:
Compact sink cover with cutting board Saloon and Galley:
LED indirect lighting Cabins:
Beige padding upholstery
Mosquito nets on portholes
3x140 amperes additional service batteries
1x60 amperes battery charger
Batteries AGM in lieu of standard
Battery charge display

UPWIND AND DOWNWIND PACK
2 Genoa winches (H 60.2 STA) + 1 Winch handle
Polyester bowsprit with integrated anchoring gear and bobstay (for Code 0 and asymmetric spinnaker)
Asymmetrical spinnaker rigging / Code 0 rigging
German system (Two-way mainsheet at the helm station) +
3 Additional starboard blockers
Genoa sheet track in catwalks + Complete genoa rigging (Genoa sheets, Return pulleys)
Furling Dacron genoa (to replace the standard self-tacking jib)
OFFSHORE PACK - B&G
Starboard steering console:
1 Multifunction touchscreen Raymarine Axiom+ 7" wide  GPS, Chart plotter
Port and starboard helm stations:
1 Raymarine i70 display Wind Sensor (Windvane, Anenometer)
Sensor (Log, Speedometer,Temperature)
P70s autopilot + Control at steering station
Fixed Ray 63 VHF with AIS Receiver 
Windex Windvane
2 Protective covers (Cadet Grey):
Steering wheel & console + To port steering console: -
1 Multifunction touchscreen Raymarine Axiom+ 7" wide  GPS, Chart plotter
1 Raymarine i70 display
WR10 Wireless autopilot remote
OPTIONS
ELECTRIC PORTSIDE HALYARD WINCH H46.2 STAEH/H46.2 STA

ELECTRIC STARBOARD HALYARD WINCH H46.2 STAEH/H46.2 STA

MOORING-ANCHORING KIT

LUXE COACHROOF SPRAYHOOD - CADET GREY

LUXE COCKPIT BIMINI - CADET GREY

LUXE POLYESTER-WOOD COCKPIT TABLE - CADET GREY COVER

ACCESS OPENINGS TO PORT AND STARBOARD

COCKPIT CUSHIONS DOLCE 51 WITH SEATBACKS

2 SUNBED MATTRESSES FOR COMPANIONWAY - DOLCE 51

BOW THRUSTER IN TUNNEL

EXTRA WATER TANK (165 L / 44 US GAL) - PORTSIDE

MICROWAVE OVEN 230V50

DIESEL FORCED AIR HEATING

MIRRORS IN THE SALOON ON THE FORWARD BULKHEAD

ANTHRACITE GREY UPHOLSTERY PADDING - SALON AND CABINS

SPRING MATTRESS FOR THE OWNER CABIN

ELECTRIC TOILET QUIET FLUSH PORTSIDE FORWARD-SEA/FRESH WATER

3 FOLDING BLADES PROPELLER (110HP)

WHITE HULL STD

PRE-WIRING FOR TV IN THE SALOON + LIFTING SYSTEM 230V

RAYMARINE AIS 700 (transmitter) 

2 RAYMARINE AXIOM PRO 9 INSTEAD OF 7" AT HELM CONSOLES

RAYMARINE RAY90 WIRELESS VHF 

OPENING PORTHOLE IN THE COCKPIT FOR AFT CABINS

PLEATED BLINDS IN SALOON: FIXED DECK PANELS + HULL PORTHOLES

TEAK COCKPIT FLOOR

TEAK SIDE DECKS
Disclaimer
In this case we are acting as brokers only. The Vendor is not selling in the course of a business. Whilst every care has been taken in their preparation, the correctness of these particulars is not guaranteed. The particulars are intended only as a guide and they do not constitute a term of any contract. A prospective buyer is strongly advised to check the particulars and where appropriate at his own expense to employ a qualified Marine Surveyor to carry out a survey and / or to have an engine trial conducted, which if carried out by us shall not imply any liability for such engine on our part.
Note to seller and purchaser: If the boat you are selling or purchasing is registered, please ensure that the registration is completed after the sale of the boat. If the purchaser wishes to cancel the registration is the duty of the seller to contact the Registry and inform them that the registration is to be cancelled. If the purchaser wishes to continue with the registration, it is the duty of the purchaser to complete the relevant forms and post off the bill of sale to the Registrar.
Download the quick and full specifications for this boat in PDF format on the left. Please note that the PDF will open in a new window and will take a short time to download. The version including all boat pictures will take longer.
Make an Enquiry
If you would like more information about this Beneteau Oceanis 51.1, please get in touch using the contact details below, or alternatively by using the contact form on the right.
Sunbird International Yacht Sales
Tel: +44 (0)1294 607074
Have a boat to sell?
over 120,000 potential buyers view this site every year
Relax and let us secure the right price for you
Get Started