€279,000
Méditerranée, France Méditerranée, France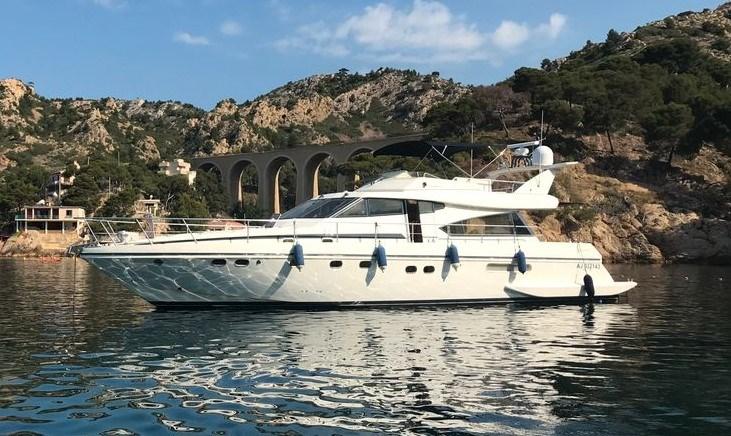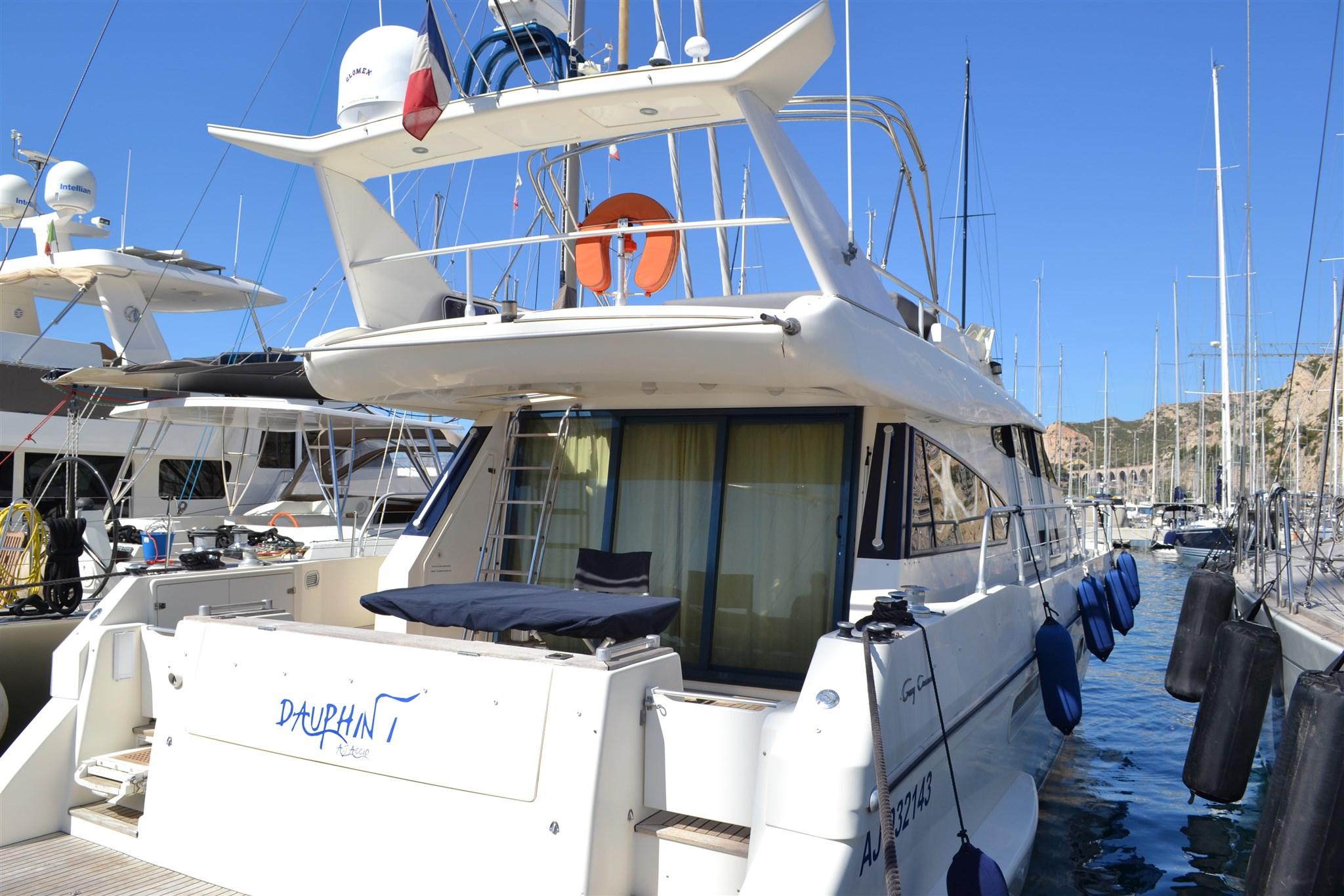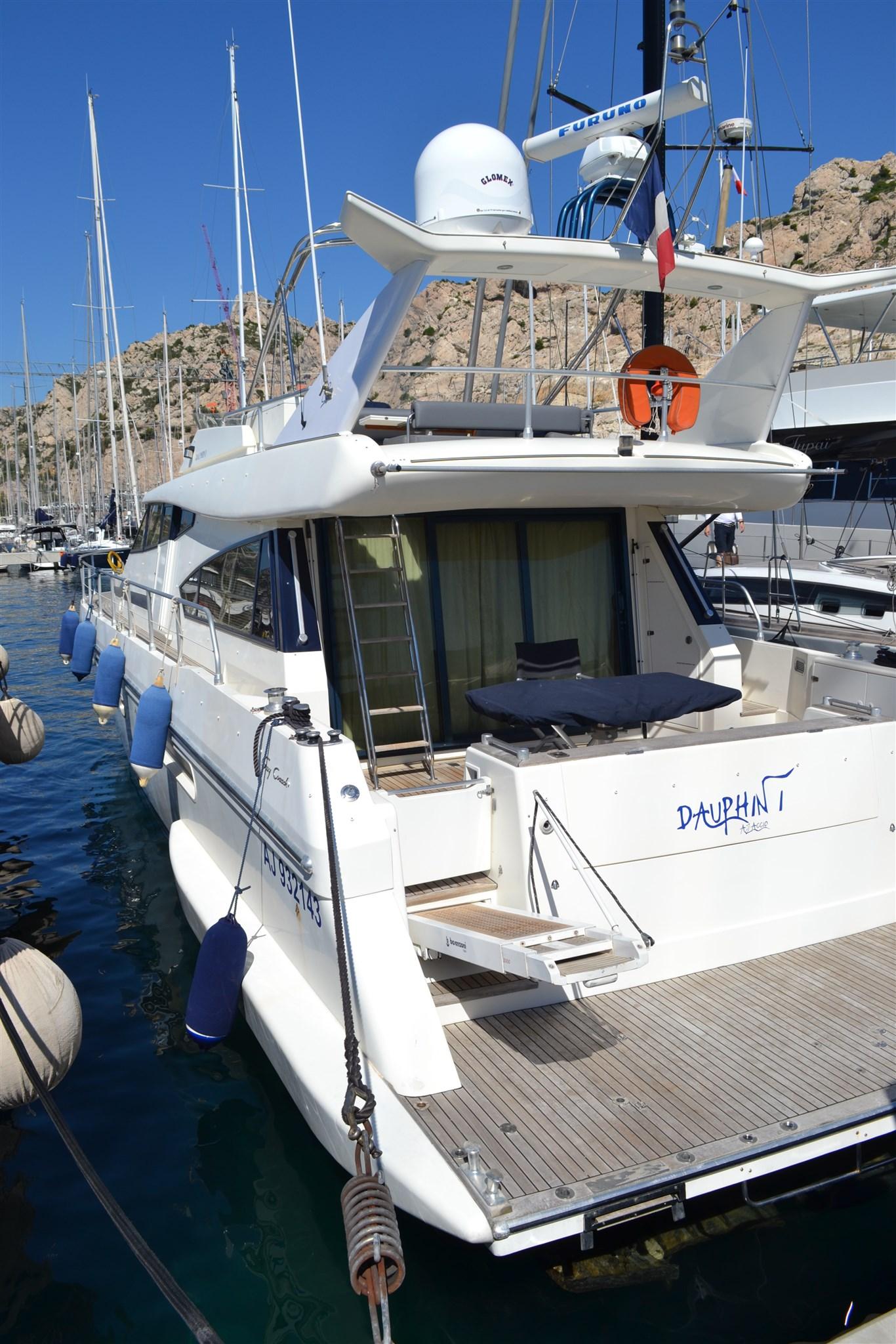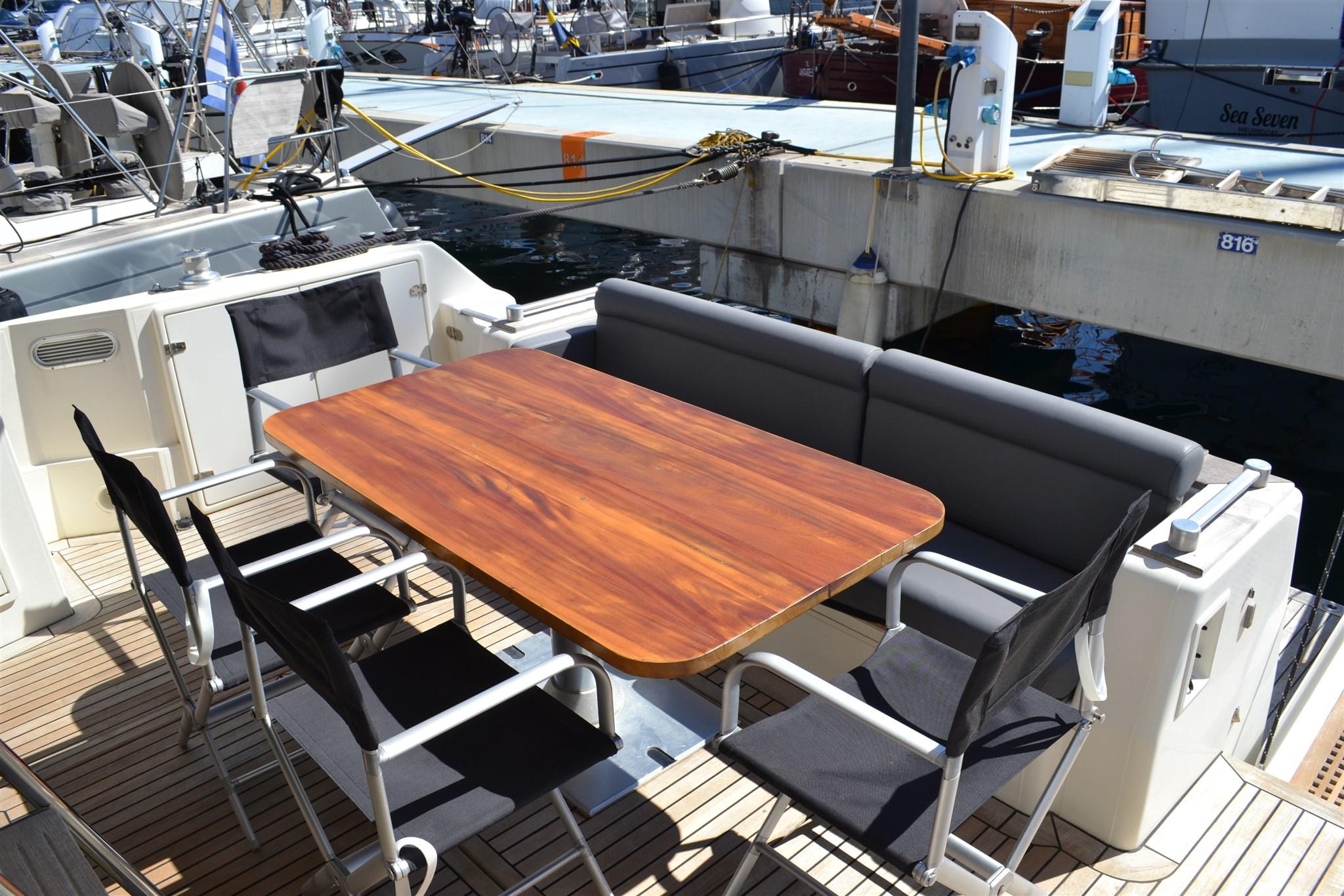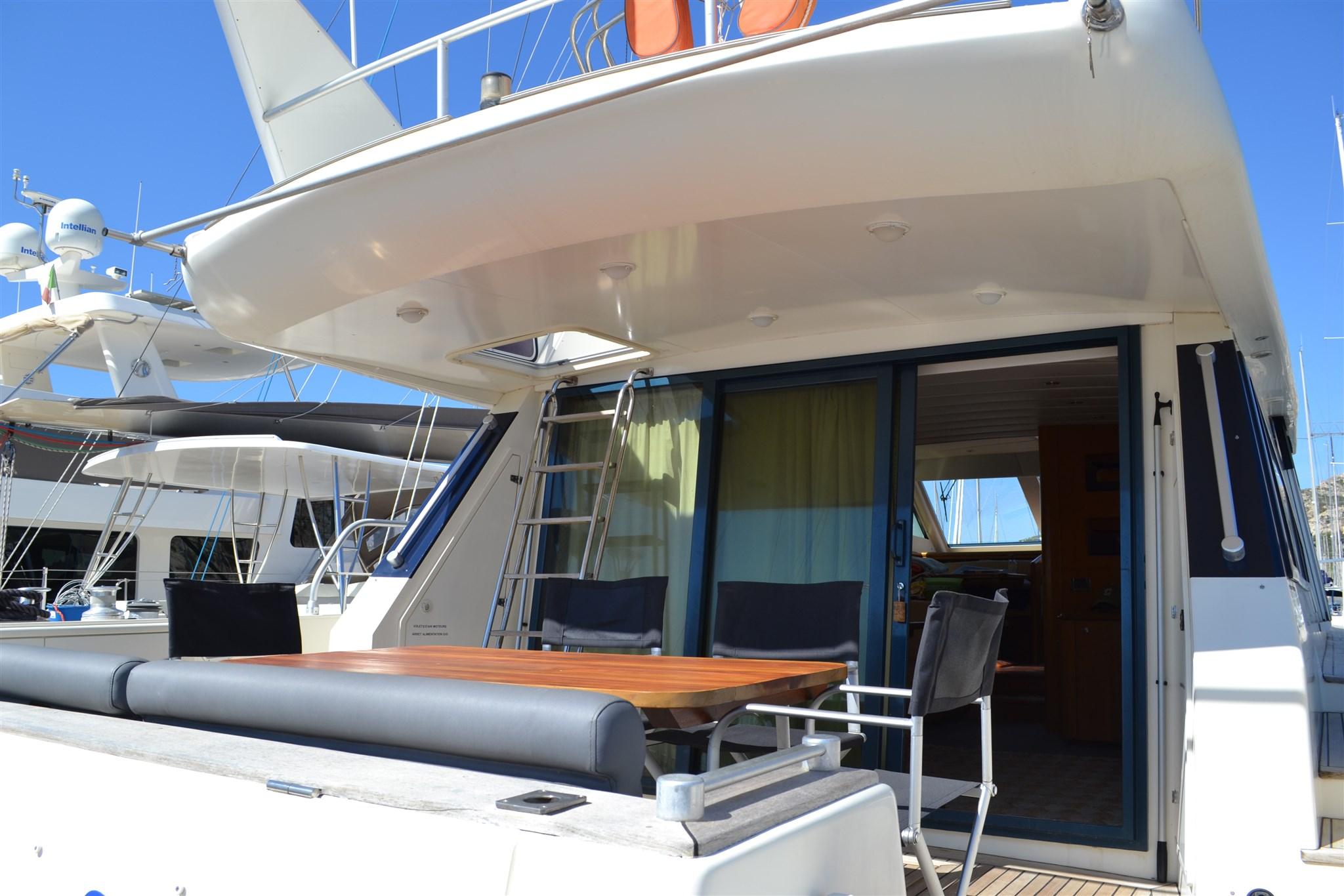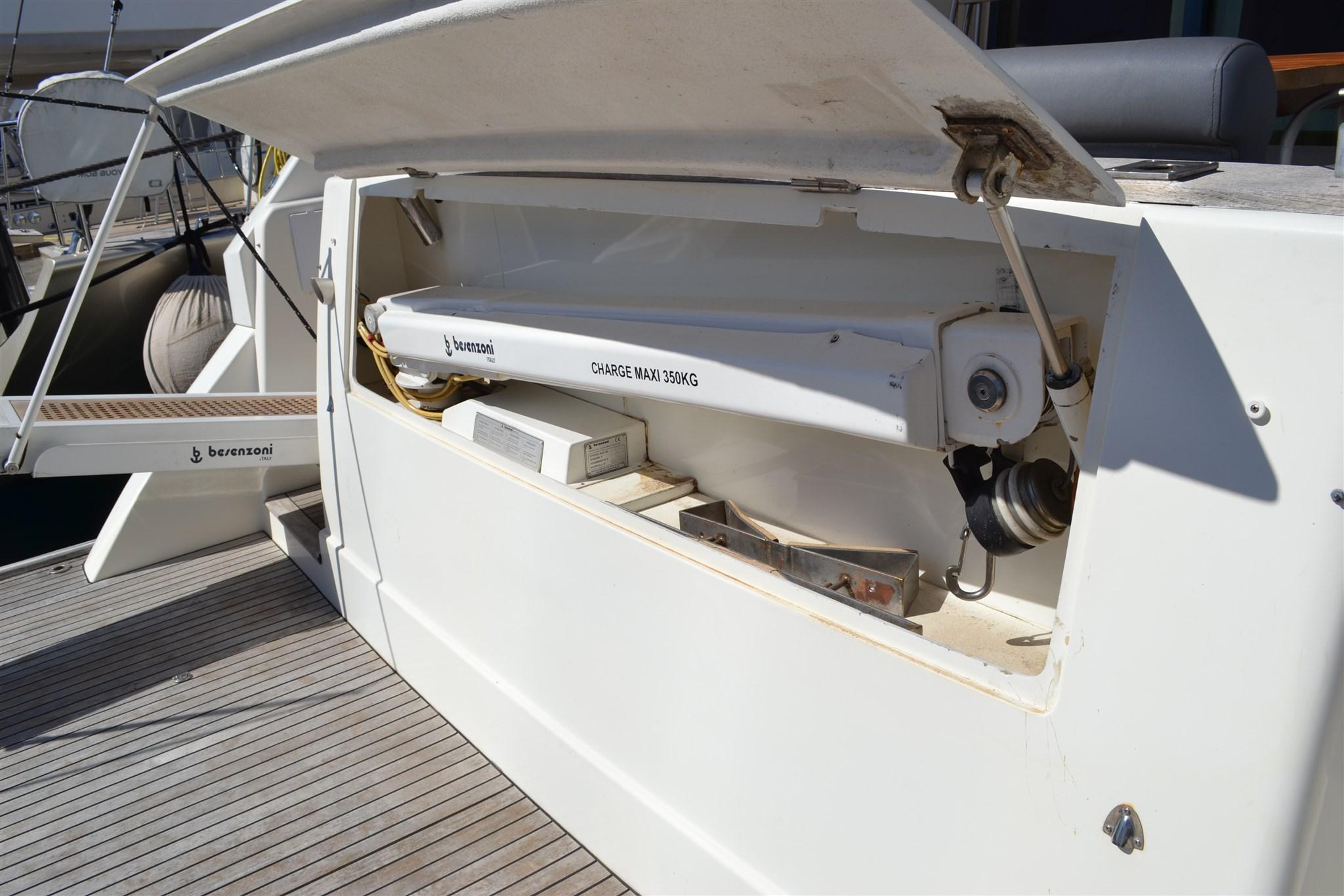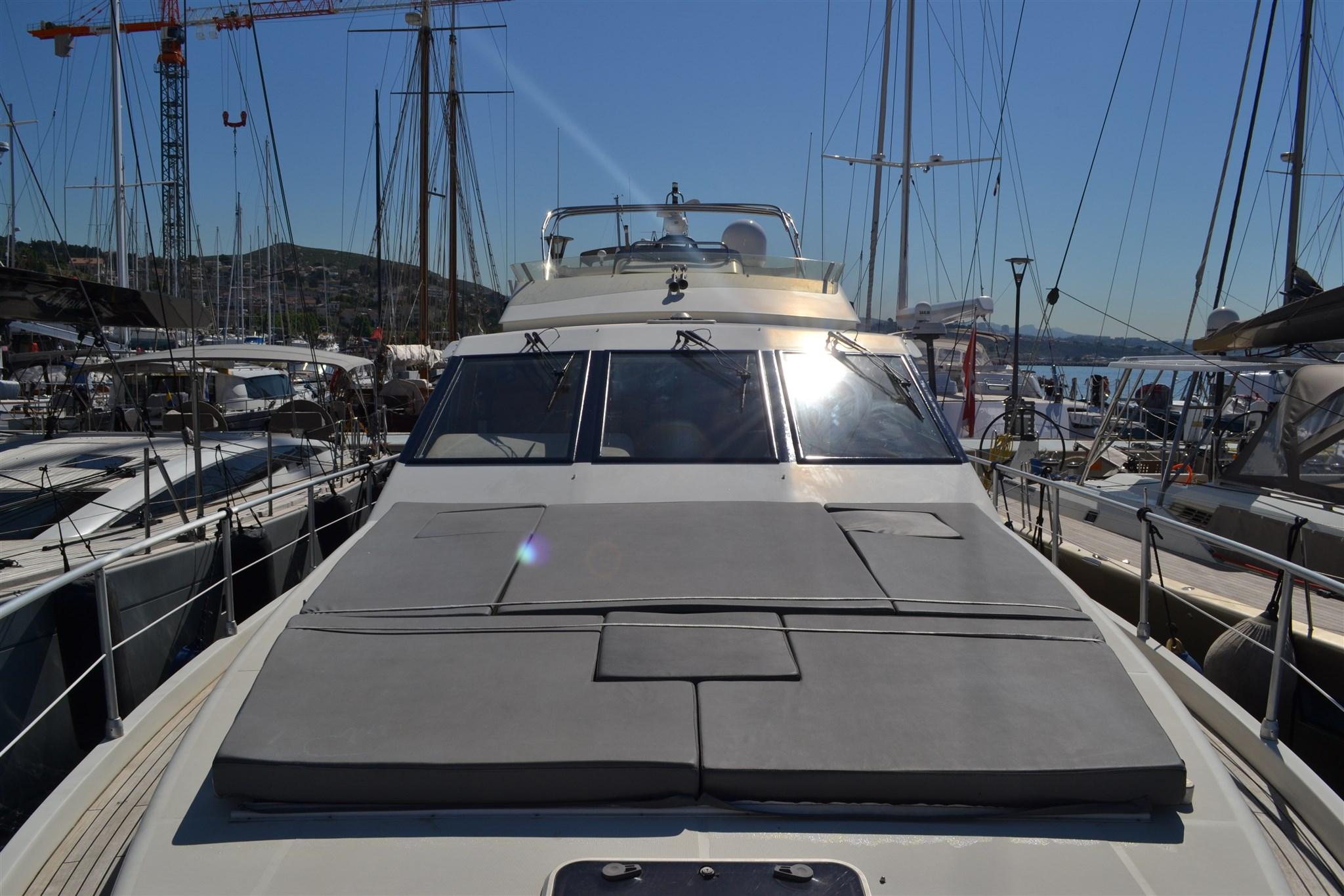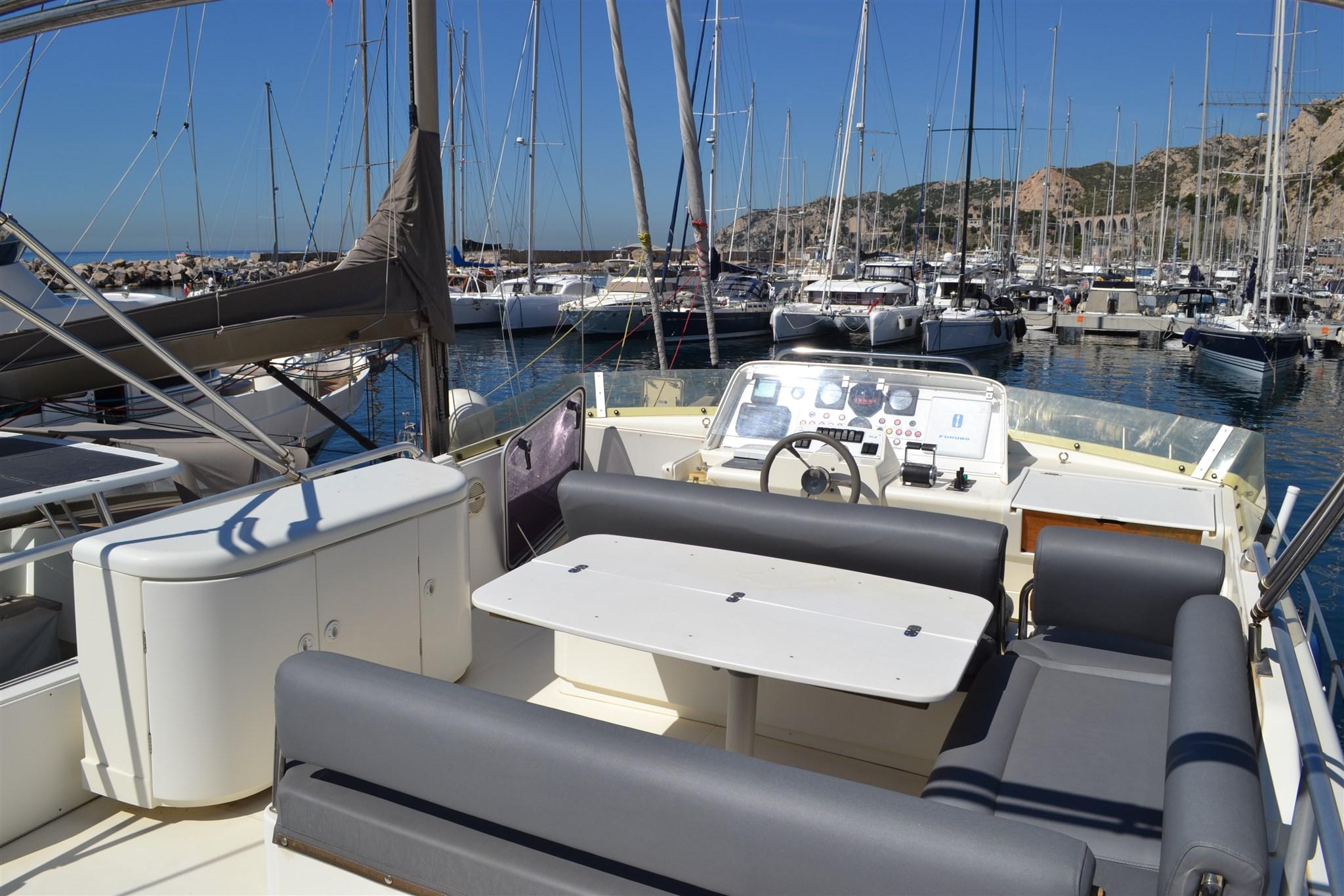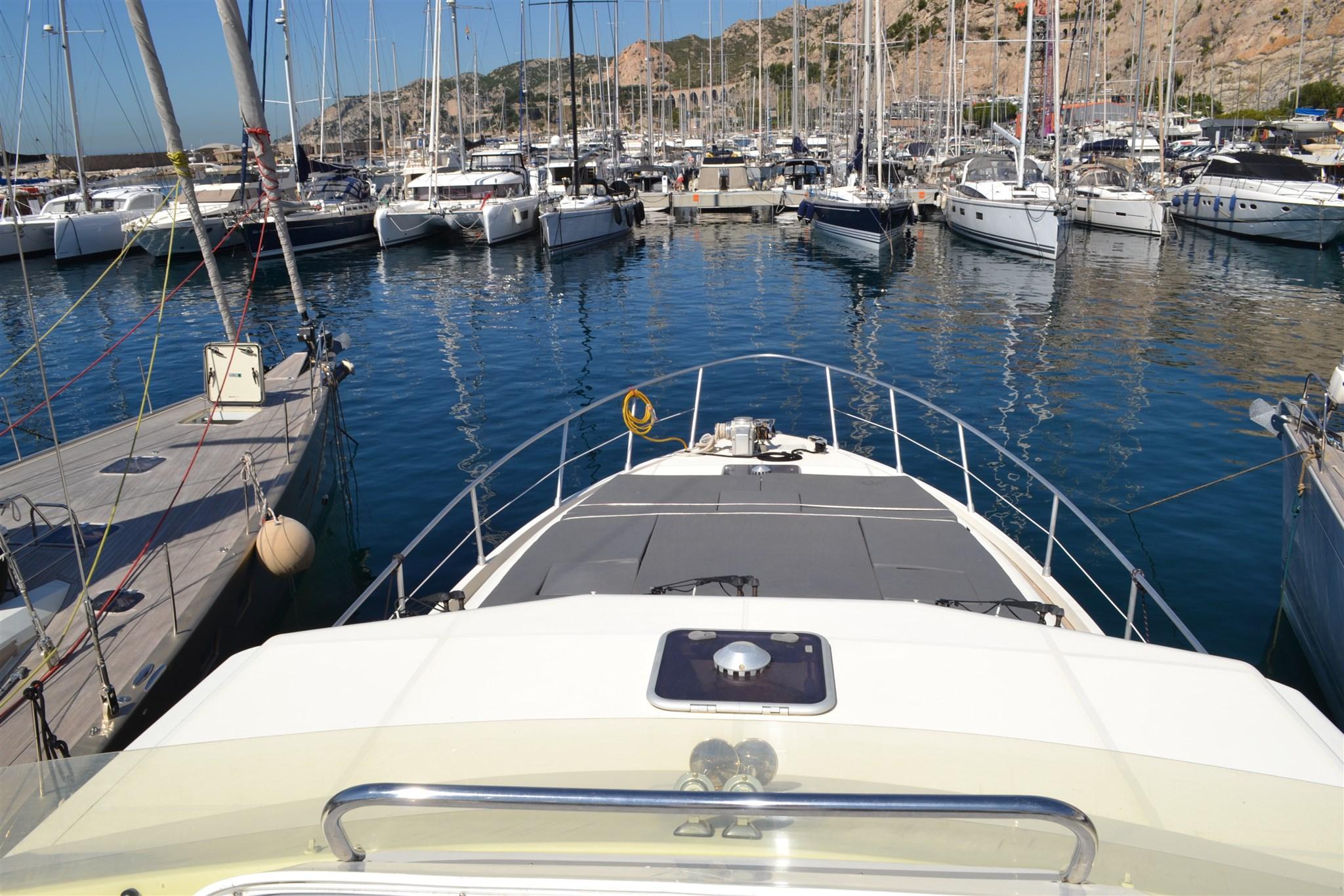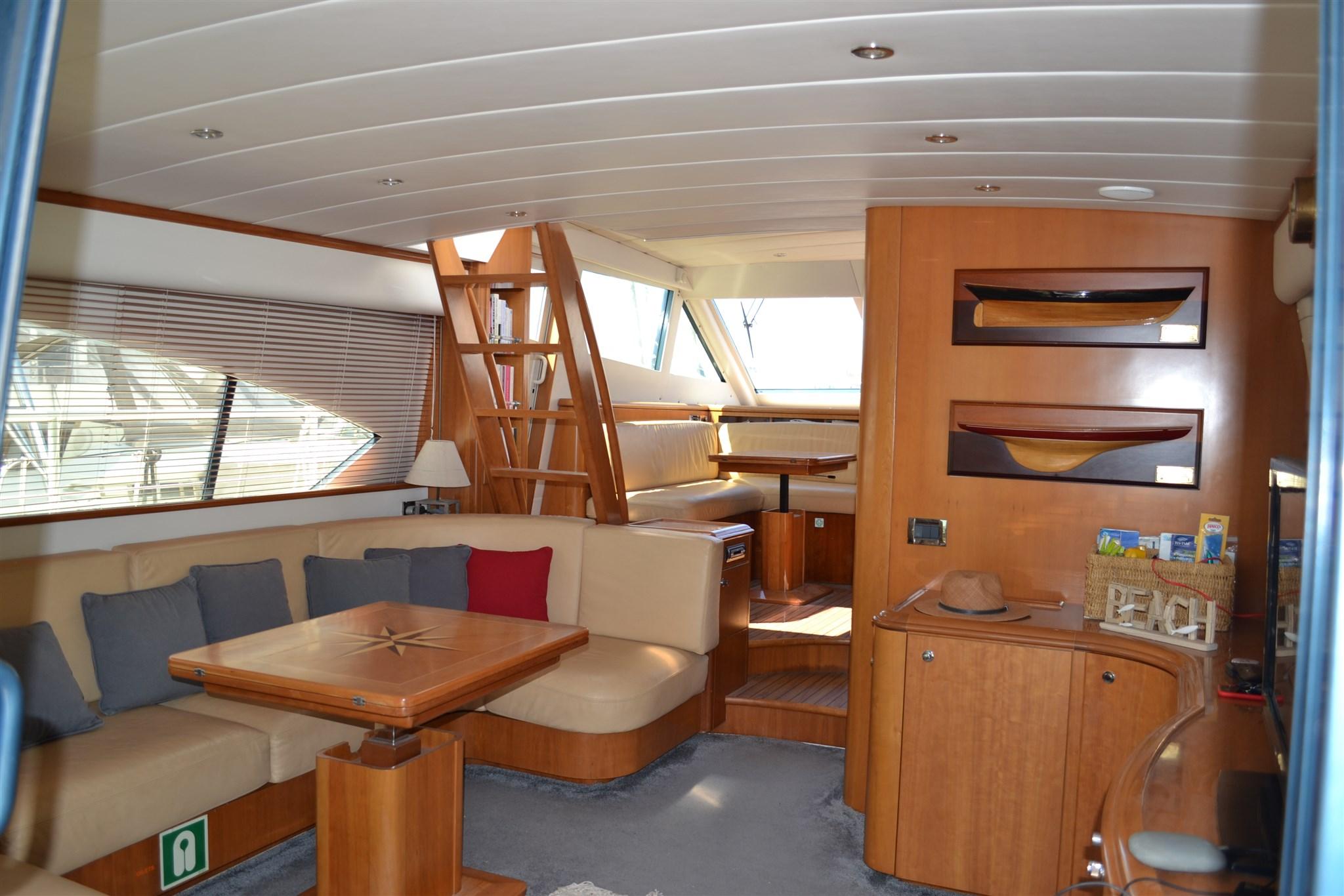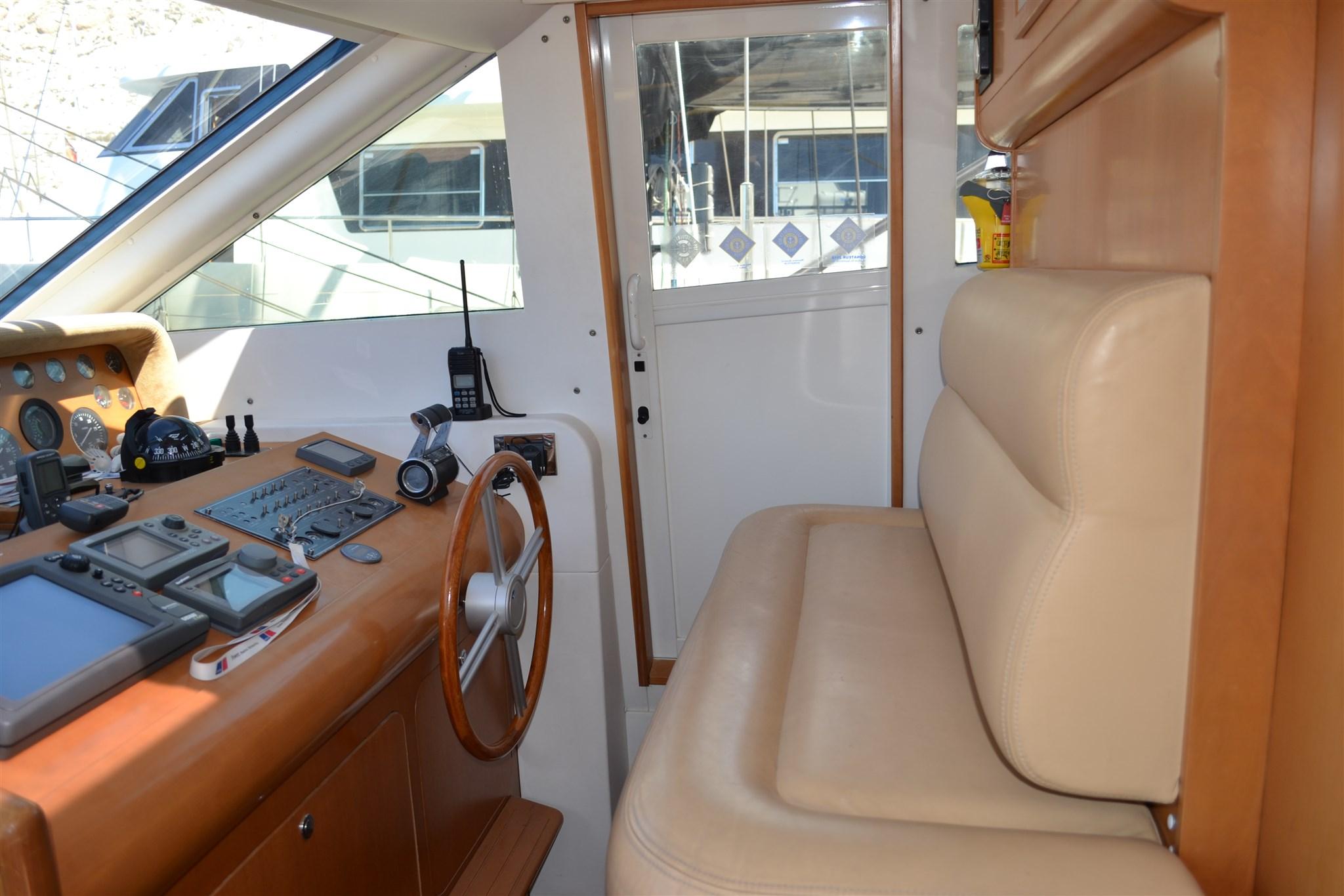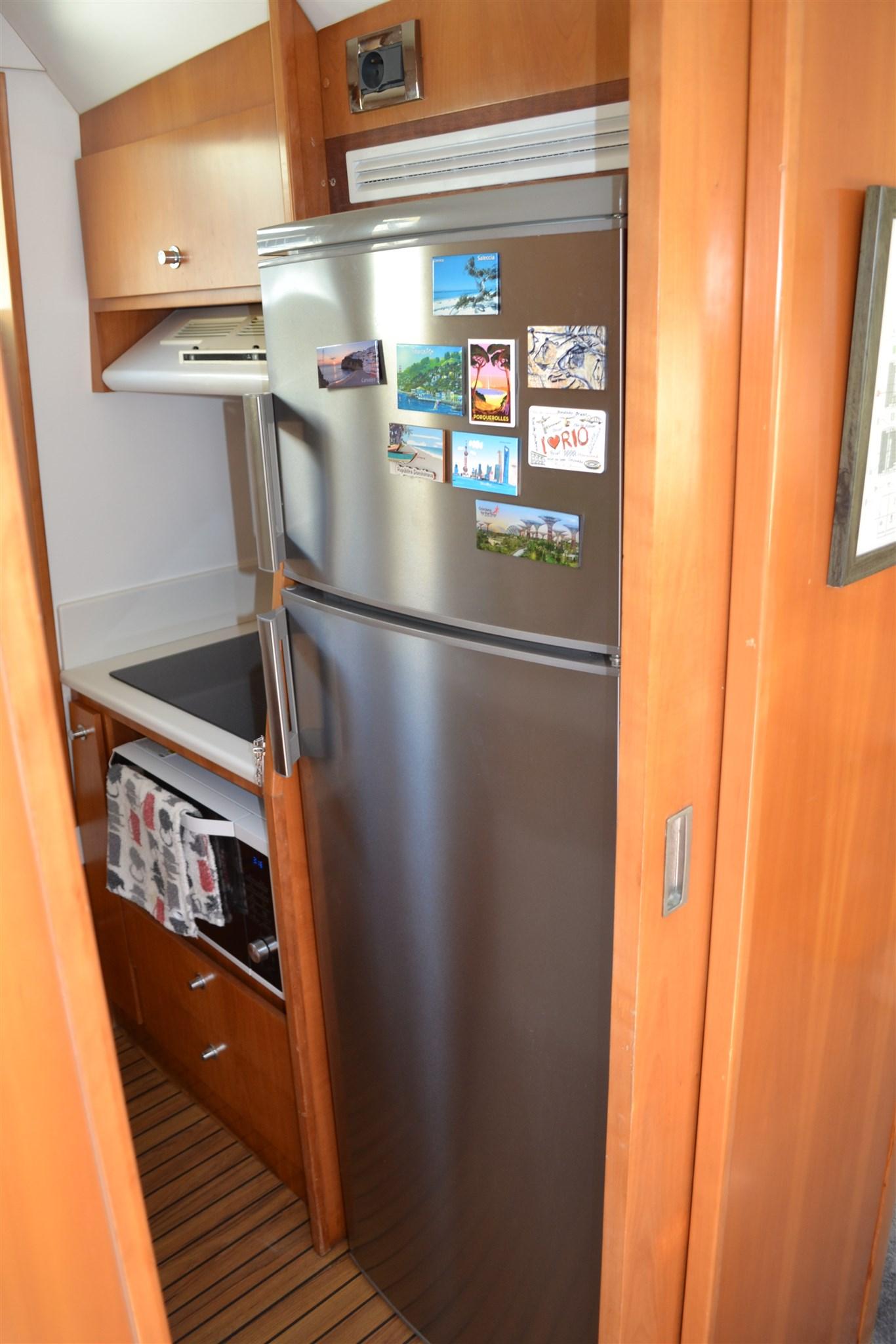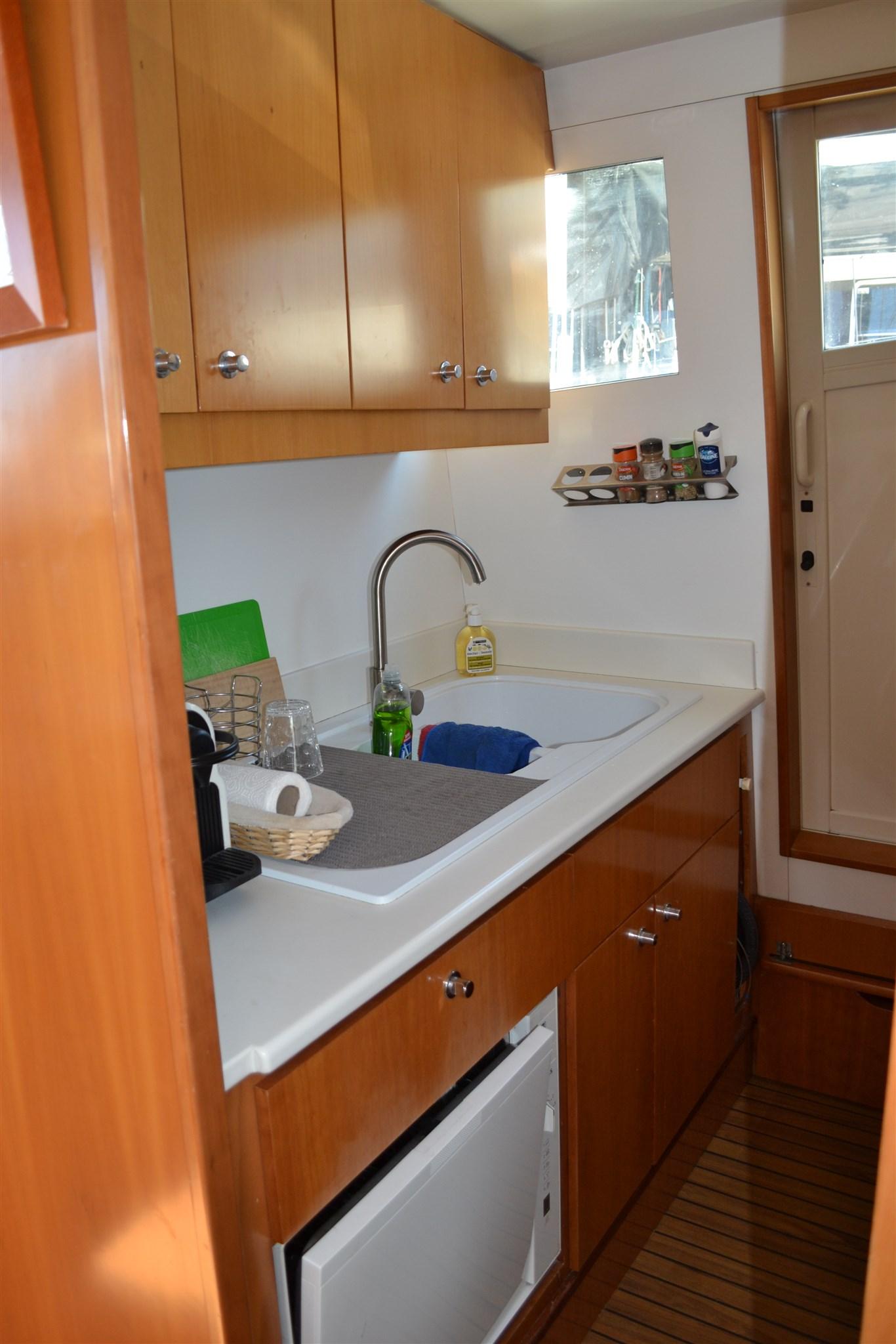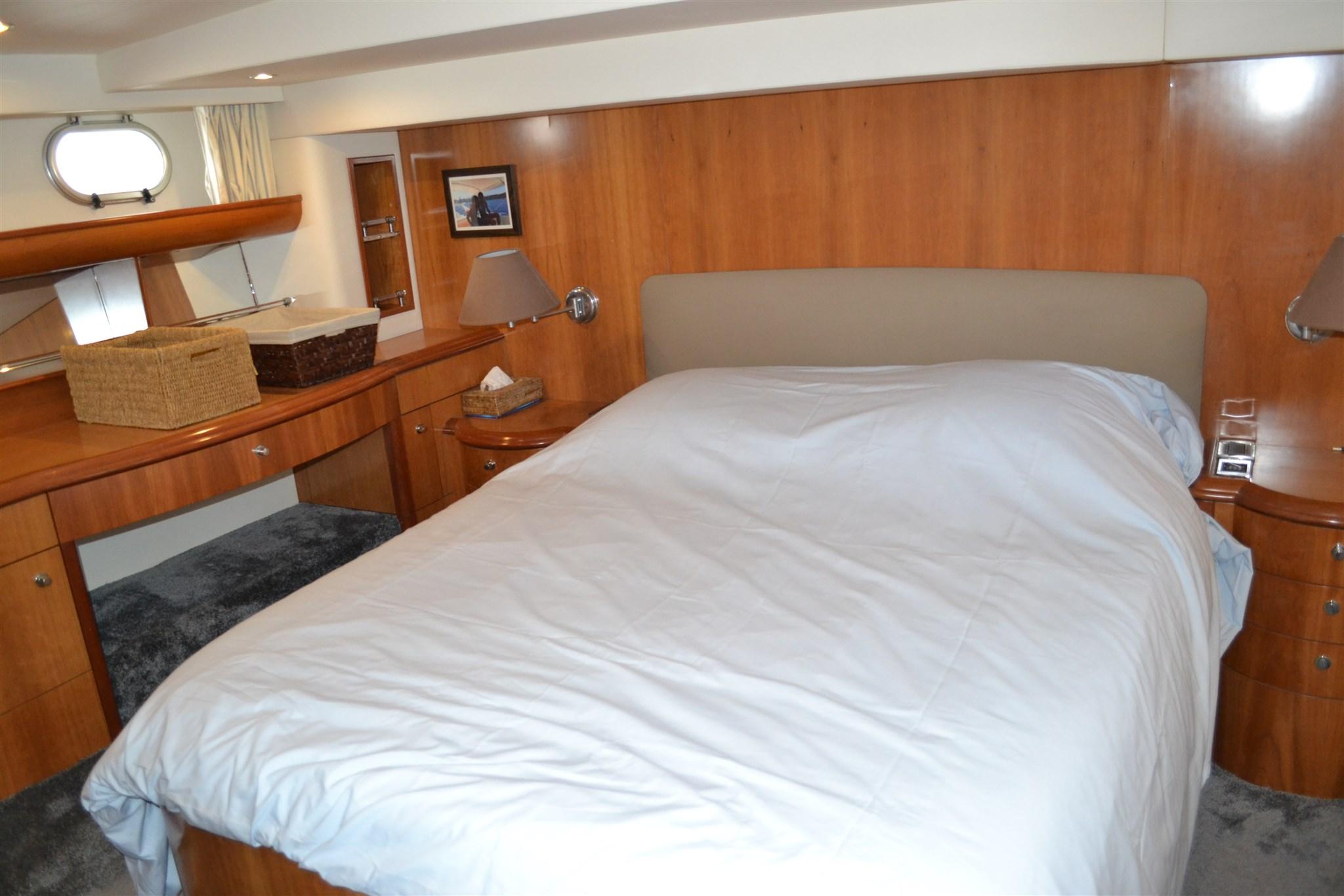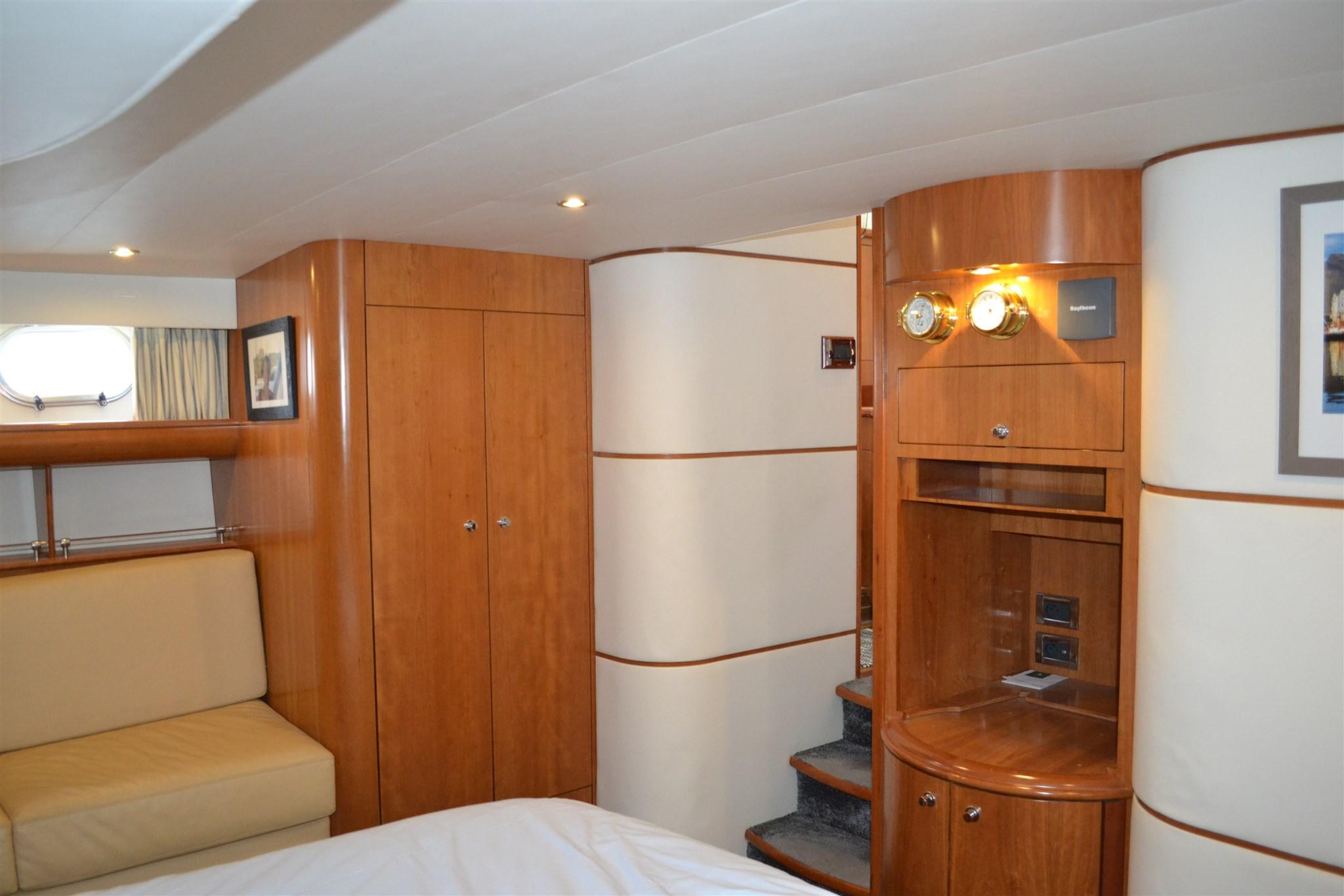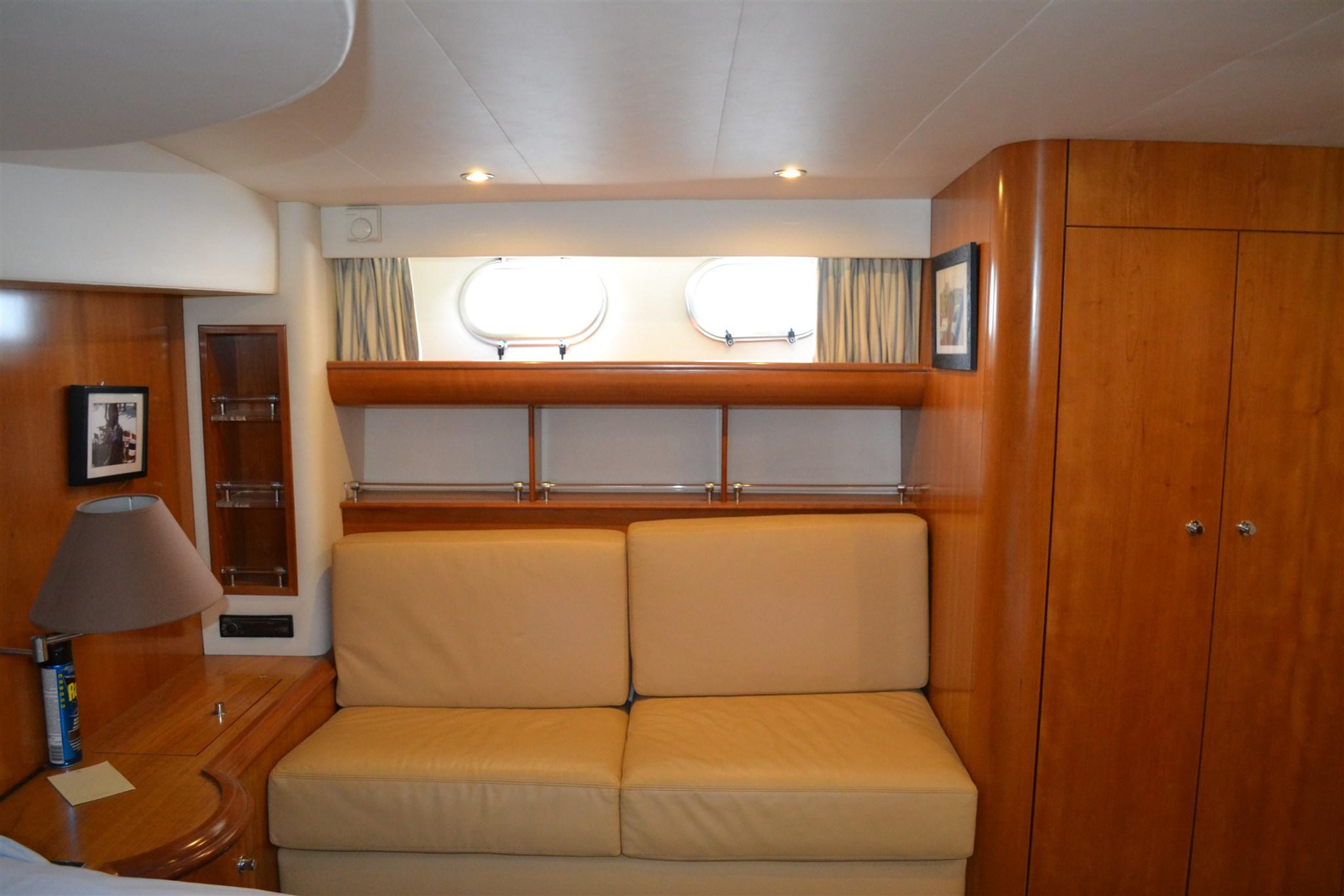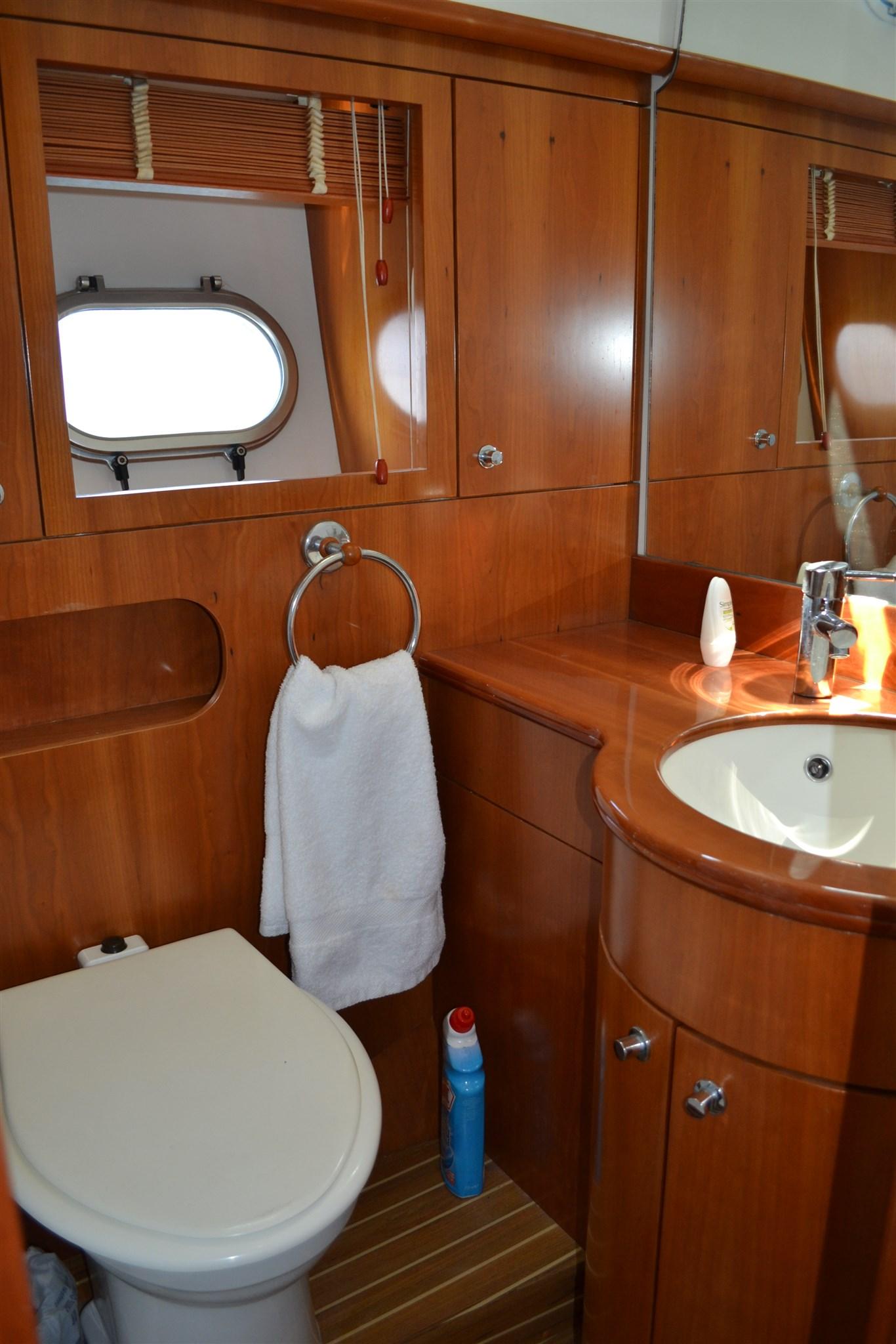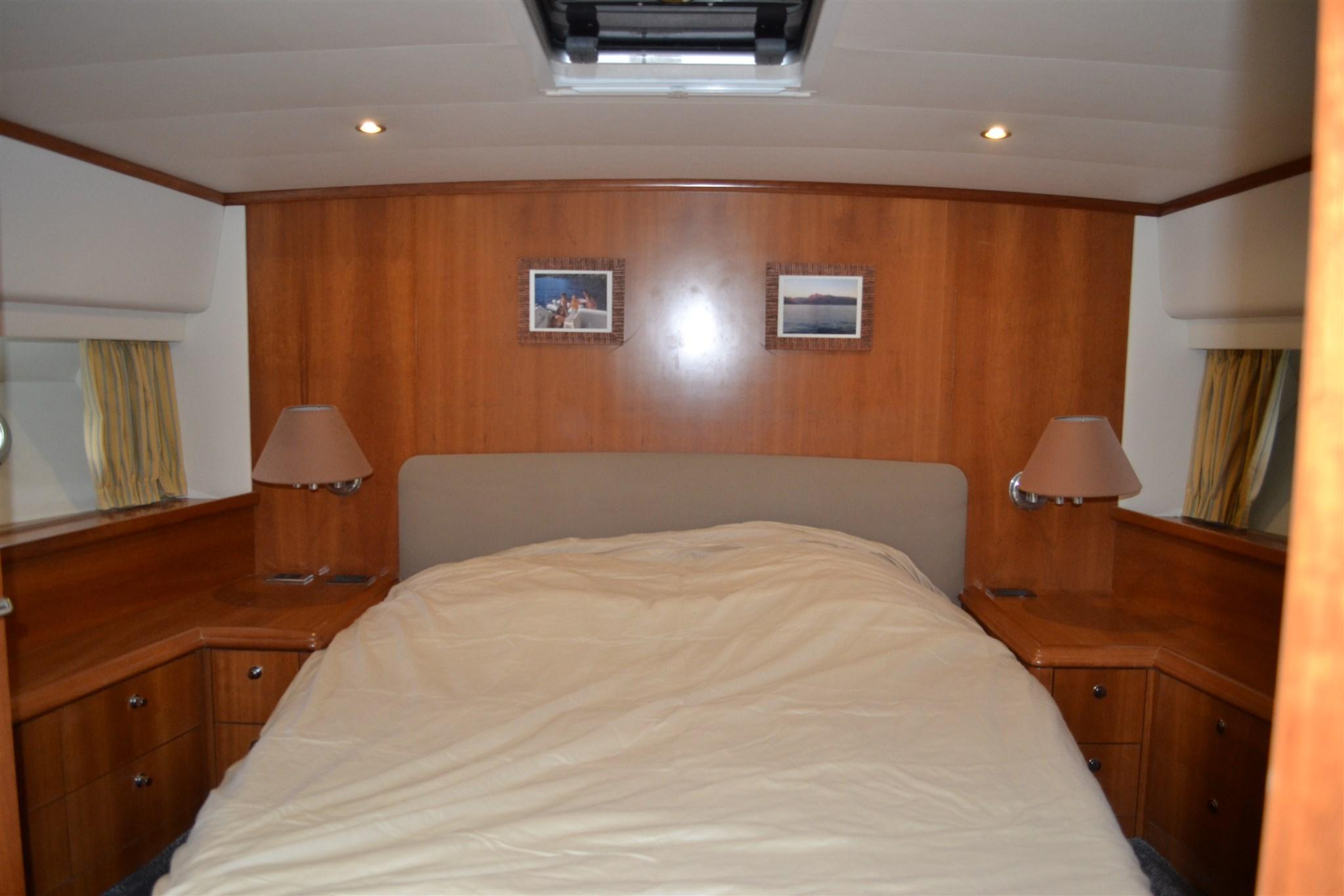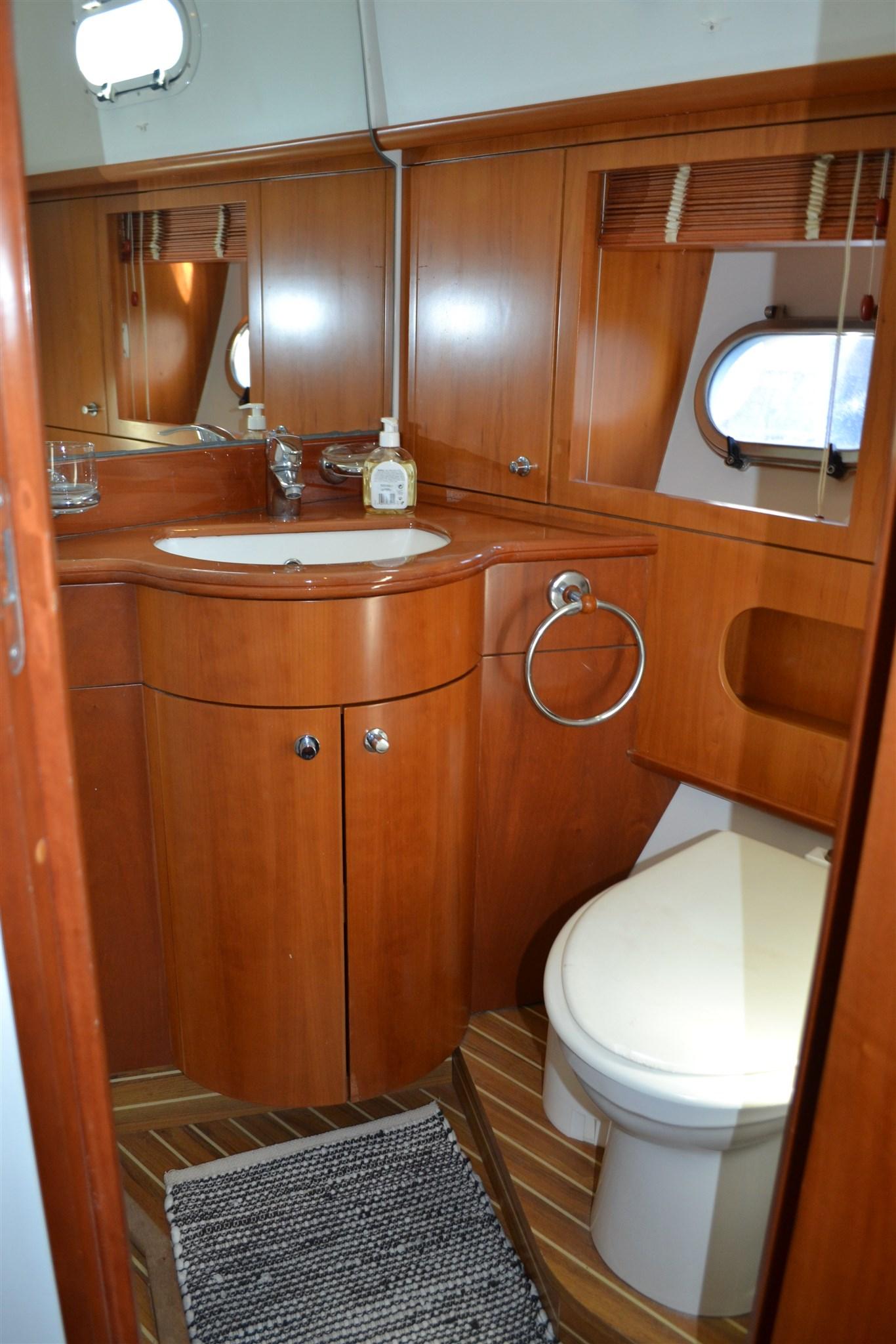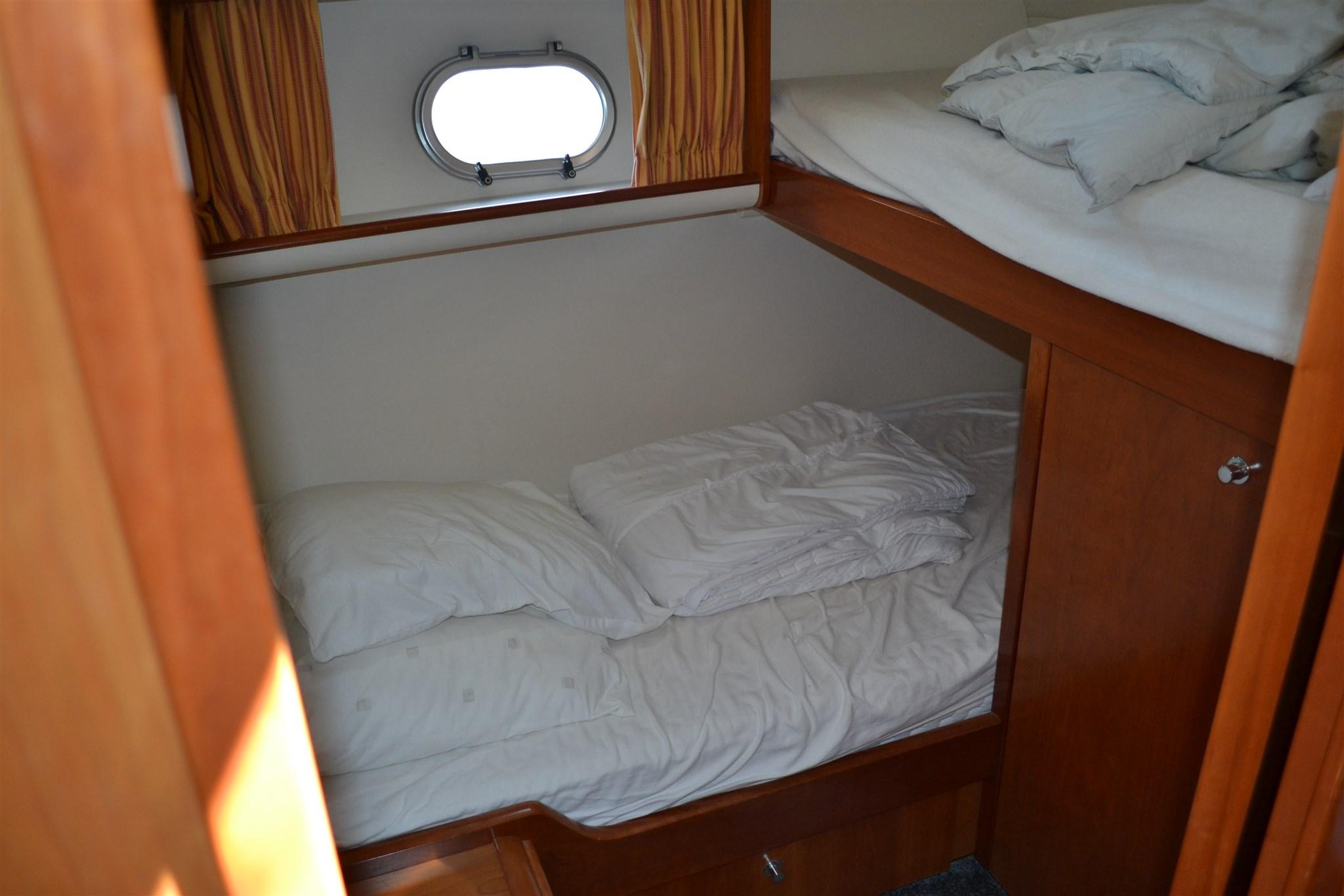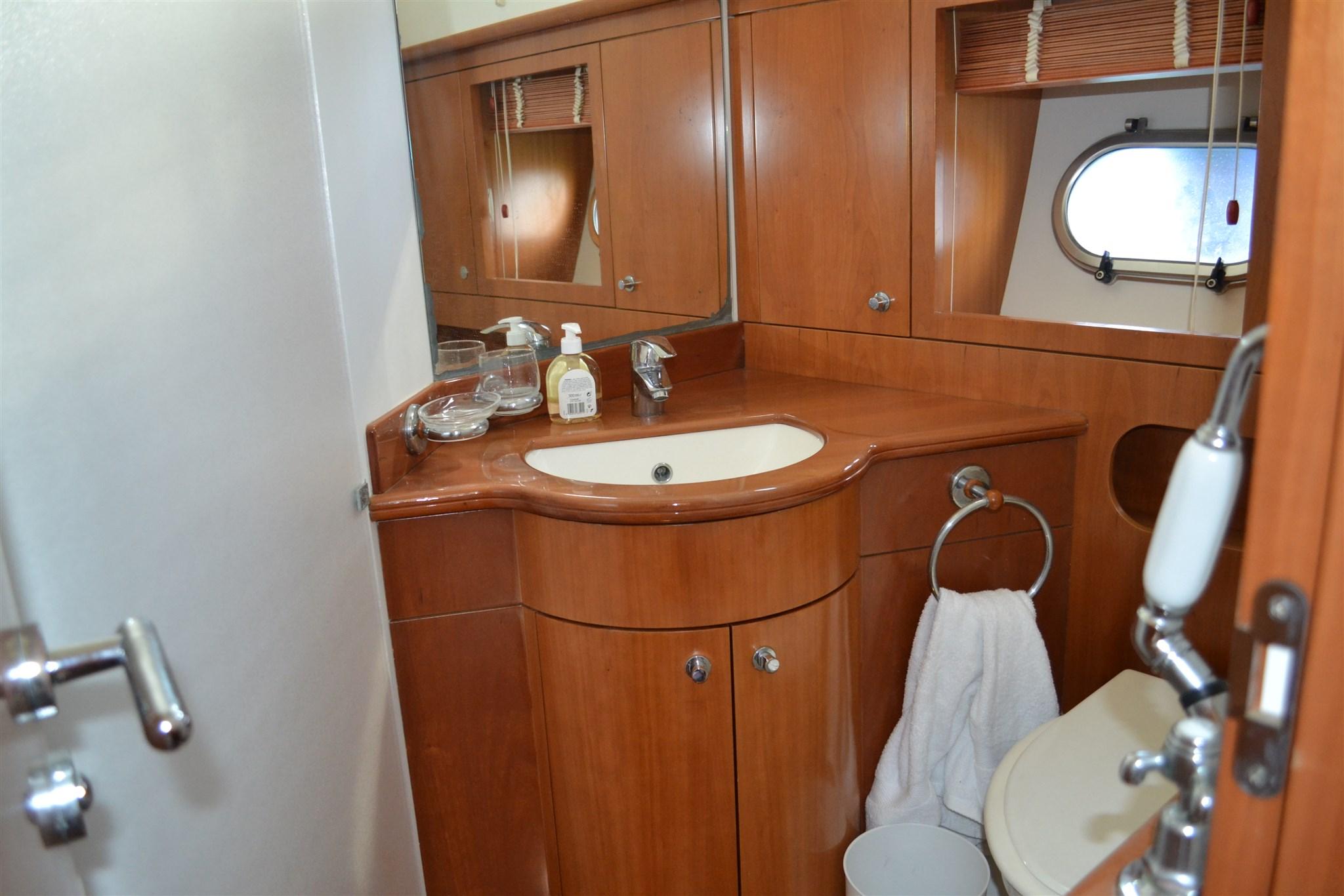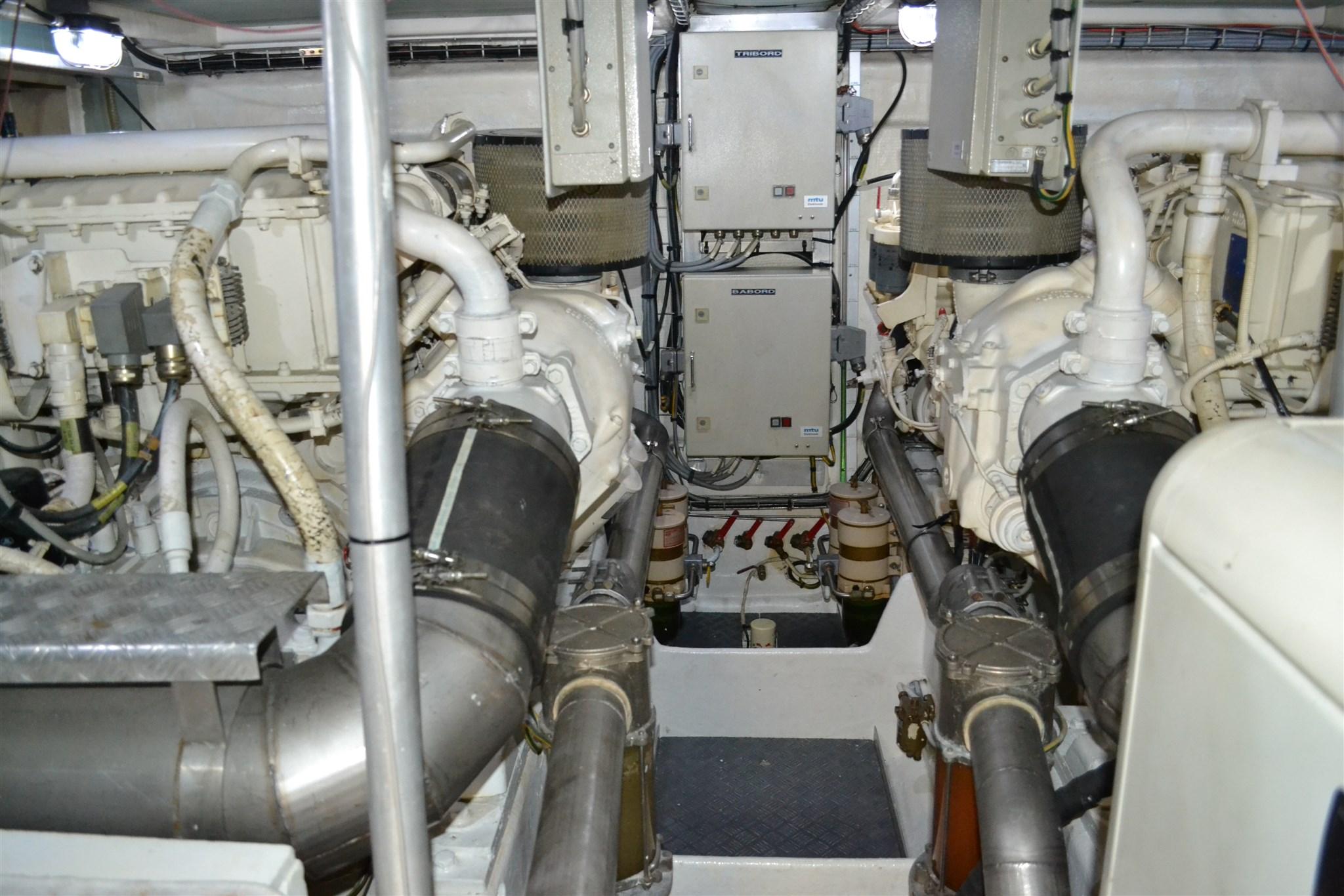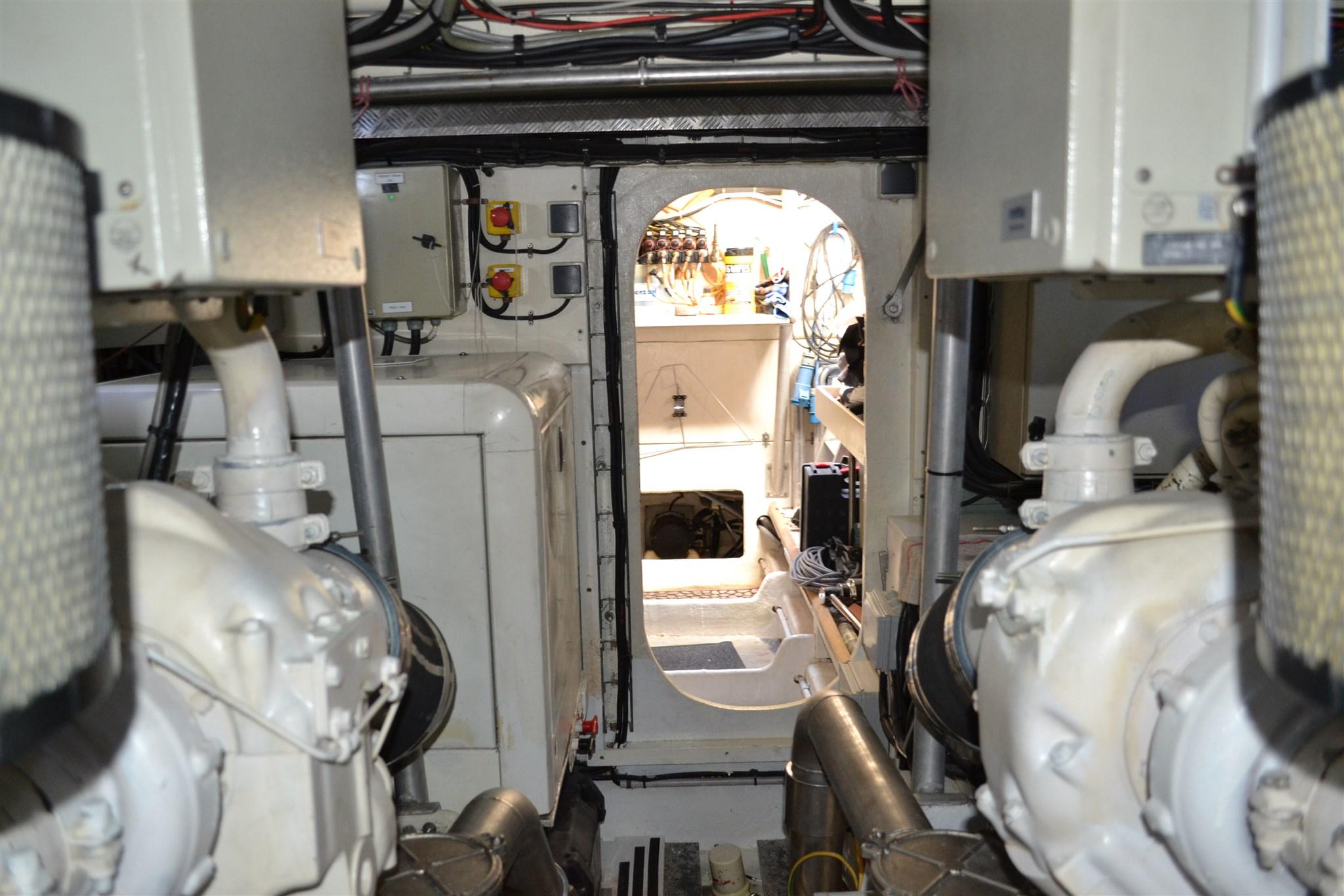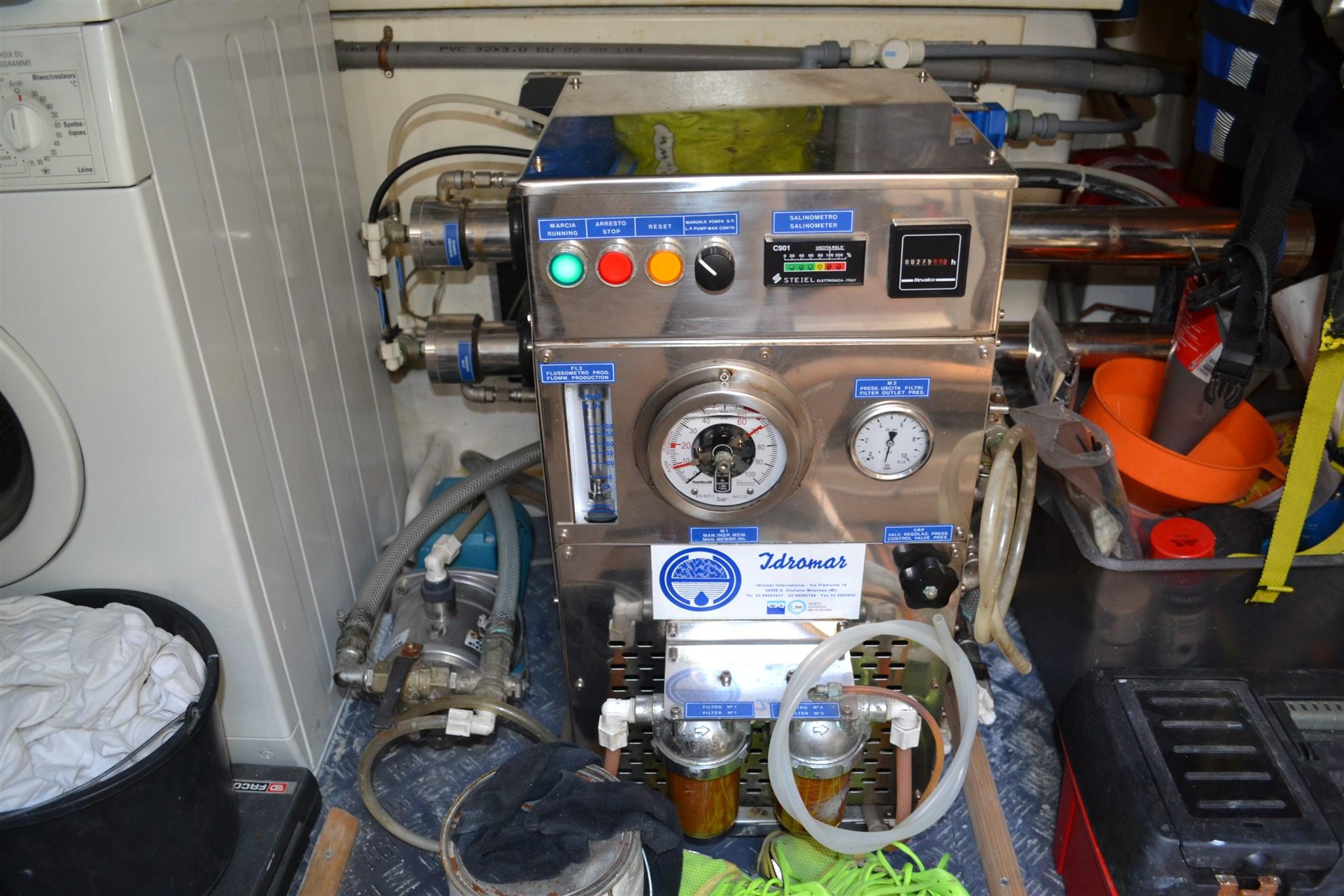 Description
Superbe Guy Couach 185 Fly en excellent état de conservation.
Ses vastes espaces de vie et sa master cabine centrale ne vous laisseront pas indifférents.
Ce bateau est entretenu et suivi avec beaucoup de soin.
Celui-ci est prêt à naviguer dans l'immédiat.

Les services moteurs et groupes ont été effectués en 2020.

Nombreux travaux effectués:
La coque a été entièrement hydrogommée en 2014 puis recouverte de 3 couches de primer et 2 couches d'antifooling Hempel Globic.

Une révision complète des moteurs de type W4 a été réalisé en 2014.

Moquette neuve dans tout le bateau en 2017.
Collecteurs d?échappement neufs en 2017.
Pompes d?eau de mer refaites en 2017
Pompe d?eau douce 220V neuve en 2017.
Taud arrière et bimini neufs en 2017.

Coussins extérieurs cockpit arrière,bain de soleil avant et fly neufs en 2018
Révision des injecteurs du groupe en 2018.
Teck de la Passe-avant bâbord neuf en 2018.
Survie Arimar 10 places révisée en 2018.

Peinture de l?arceau en 2019
Carénage en juillet 2019
Services moteurs et groupe en 2019
Obturateurs de trappes au Fly neufs en 2019
Joint spy de pompe à eau du groupe neuf en 2019


Plus de photos et vidéos sur demande. Contactez nous au +33695567044
Notes sur le prix: TVA comprise
English
Superb Guy Couach 185 Fly in excellent condition.
Its vast living spaces and its master cabin will not leave you indifferent.
This boat is maintained and followed with great care.
This one is ready to sail in the immediate future.

Engine and group services were completed in 2020.

Many jobs done:
The hull was fully hydrogommed in 2014 and then covered with 3 layers of primer and 2 layers of Hempel Globic antifooling.

A complete overhaul of the W4 engines was carried out in 2014.

New carpet throughout the boat in 2017.
New exhaust collectors in 2017.
Seawater pumps redone in 2017
New 220V fresh water pump in 2017.
Taud new rear and bimini in 2017.

Rear cockpit exterior cushions, new front and fly suns in 2018
Review of the group's injectors in 2018.
New port front pass teck in 2018.
Survival Arimar 10 places revised in 2018.

Painting the bow in 2019
Fairing in July 2019
Engine and group services in 2019
New Fly hatch shutters in 2019
New group water pump joint spy in 2019

More photos and videos on demand. Contact us at '33695567044'
Italiano
Superb Guy Couach 185 Volare in ottime condizioni.
I suoi vasti spazi abitativi e la sua cabina principale non vi lascerà indifferenti.
Questa barca è mantenuta e seguita con grande cura.
Questo è pronto a navigare nell'immediato futuro.

I servizi del motore e del gruppo sono stati completati nel 2020.

Molti lavori fatti:
Lo scafo è stato completamente idrogommed nel 2014 e poi coperto con 3 strati di primer e 2 strati di Hempel Globic antifooling.

Nel 2014 è stata effettuata una revisione completa dei motori W4.

Nuovo tappeto in tutta la barca nel 2017.
Nuovi collettori di scarico nel 2017.
Pompe di acqua di mare rifatte nel 2017
Nuova pompa 220V di acqua dolce nel 2017.
Taud nuovo posteriore e bimini nel 2017.

Cuscini esterni della cabina di pilotaggio posteriore, nuovi sole anteriori e fly nel 2018
Recensione degli iniettori del gruppo nel 2018.
Nuovo porta anteriore pass teck in 2018.
Survival Arimar 10 posti rivisti nel 2018.

Dipingere l'arco nel 2019
Fairing nel luglio 2019
Motori e servizi di gruppo nel 2019
Nuove persiane Fly hatch nel 2019
Nuovo gruppo pompa dell'acqua spia congiunta in 2019

Altre foto e video su richiesta. Contattaci al '33695567044'
Deutsch
Superb Guy Couach 185 Fliegen in ausgezeichnetem Zustand.
Seine riesigen Wohnräume und seine Meisterkabine werden Sie nicht gleichgültig lassen.
Dieses Boot wird gepflegt und mit großer Sorgfalt verfolgt.
Dieser ist bereit, in der unmittelbaren Zukunft zu segeln.

Die Triebwerks- und Konzerndienste wurden 2020 abgeschlossen.

Viele Arbeiten erledigt:
Der Rumpf wurde 2014 vollständig hydrogommed und dann mit 3 Schichten Primer und 2 Schichten Hempel Globic Antifooling bedeckt.

2014 wurde eine komplette Überholung der W4-Motoren durchgeführt.

Neuer Teppich im ganzen Boot im Jahr 2017.
Neue Abgaskollektoren im Jahr 2017.
Meerwasserpumpen im Jahr 2017 wiederauferbar
Neue 220V Frischwasserpumpe im Jahr 2017.
Taud neue Rückseite und Bimini im Jahr 2017.

Cockpit-Außenkissen hinten, neue Front- und Fliegensonnen im Jahr 2018
Überprüfung der Injektoren der Gruppe im Jahr 2018.
Neuer Hafenfrontpass teck im Jahr 2018.
Survival Arimar 10 Plätze im Jahr 2018 überarbeitet.

Bemalen des Bogens im Jahr 2019
Verkleidung im Juli 2019
Motor- und Konzerndienstleistungen im Jahr 2019
Neue Fly Lukenläden im Jahr 2019
Neue Gruppe Wasserpumpe Joint Spion in 2019

Weitere Fotos und Videos auf Anfrage. Kontaktieren Sie uns unter '33695567044'
Español
Excelente Guy Couach 185 Fly en excelentes condiciones.
Sus amplios espacios de vida y su camarote principal no te dejarán indiferente.
Este barco se mantiene y se sigue con mucho cuidado.
Este está listo para navegar en el futuro inmediato.

Los servicios de motor y grupo se completaron en 2020.

Muchos trabajos realizados:
El casco fue completamente hidrogommed en 2014 y luego cubierto con 3 capas de imprimación y 2 capas de hempel Globic antifooling.

Una revisión completa de los motores W4 se llevó a cabo en 2014.

Nueva alfombra en todo el barco en 2017.
Nuevos colectores de escape en 2017.
Bombas de agua de mar rehecho en 2017
Nueva bomba de agua dulce de 220V en 2017.
Taud nuevo trasero y bimini en 2017.

Cojines exteriores de la cabina trasera, nuevos soles delanteros y volantes en 2018
Revisión de los inyectores del grupo en 2018.
Nuevo pase frontal en 2018.
Supervivencia Arimar 10 lugares revisados en 2018.

Pintando el arco en 2019
Caren de carenamiento en julio de 2019
Servicios de motor y grupo en 2019
Nuevas persianas fly hatch en 2019
Nuevo grupo de bomba de agua joint spy en 2019

Más fotos y vídeos bajo demanda. Contáctenos en '33695567044'
??????
Superb Guy Couach 185 Fly ? ???????? ?????????.
??? ???????? ????? ????????? ? ??? ??????-?????? ?? ??????? ??? ????????????.
??? ????? ?????????????? ? ??????? ? ??????? ?????????????.
???? ????? ? ???????? ? ????????? ???????.

?????? ?????????? ? ????? ???? ????????? ? 2020 ????.

?????? ??????????? ??????:
?????? ??? ????????? ??????????????? ? 2014 ????, ? ????? ?????? 3 ?????? ????????? ? 2 ?????? ??????????? Hempel Globic.

??????????? ?????? ?????????? W4 ??? ???????? ? 2014 ????.

????? ????? ?? ???? ????? ? 2017 ????.
????? ?????????? ????????? ????? ? 2017 ????.
?????? ??????? ???? ?????????? ? 2017 ????
????? ????? ??????? ???? 220V ? 2017 ????.
Taud ????? ?????? ? bimini ? 2017 ????.

?????? ?????? ???????? ???????, ????? ???????? ? ?????? ?????? ? 2018 ????
????? ?????????? ?????? ? 2018 ????.
????? ???? ????? ???????? teck ? 2018 ????.
????????? Arimar 10 ???? ???????????? ? 2018 ????.

??????? ???? ? 2019 ????
???????????? ? ???? 2019 ????
?????? ????????? ? ?????? ? 2019 ????
????? ?????? ???? Fly ? 2019 ????
????? ?????? ???????? ?????? ?????????? ????? ? 2019 ????

?????? ?????????? ? ????? ?? ???????. ????????? ? ???? ?? ???????? '33695567044'
General Information
Year Built: 2000
Hull Material: Other
Builder: Guy Couach
Measurements
Length: 58.56 ft
Beam: 4.8 meter
Min Draft: 1.28 meter
Max Draft: 1.28 meter
Length Overall: 18.45 meter
Displacement: 27000 kilogram
Engines
Number of Engines: 2
Fuel Type: Other
Engine Hours: 1100
Total Power: 1540 hp
Catégories de navigation
A - Haute mer
Accessoires supplémentaires
Appareillage électronique de navigation
Antenne radar (Furuno), 3 Commande électrique (MTU intérieur, fly et cockpit), Loch (ST60 Raymarine (avec répétiteur au fly et dans Master Cabine)), 2 GPS (1 JRC + 1 au fly Furuno gp1670 avec écran couleur), Pilote automatique (Raython (avec répétiteur au fly)), Radar (Furuno 64NM (avec répétiteur au fly)), 2 Radio VHF (1 ASN radio Océan RO 4800 + 1 au fly ICOM 550), 2 Sondeur (1 Furuno + 1 sur écran ST60 Raymarine (avec répétiteur au fly et dans Master Cabine)).
Equipement technique et de pont supérieur
Ancre, Eau sous pression, Radeau de sauvetage, 7 Batteries (2 de démarrage AGM de 12V 170Ah (2016) + 4 de service AGM 12V 170Ah (2016) + 1 12v 85Ah pour alimentation secours de l'électronique avec son chargeur 12v/15A), Chargeur de batterie (Dolphin 24/80 (2015)), Propulseur de poupe (Commandes à l'intérieur, au fly et dans cockpit), Propulseur d'étrave (Commandes à l'intérieur, au fly et dans cockpit), Grue électrique (Besenzoni (reconditionnée en 2014 par Besenzoni)), Passerelle (Hydraulique Besenzoni escamotable sous le plancher du cockpit (reconditionnée en 2014 par Besenzoni)), Plateforme arrière (Teck), 2 Porte latérale, Prise de quai, Pont en teck.
Equipement domestique de bord
BBQ/ Grill (Grill au Fly), Air Conditionné (Groupe de climatisation dans tout le bateau avec réglage séparé dans le carré et les cabines (pompe eau de mer neuve 2019)), Dessalinisateur (Idromare 130l/h (pompe basse pression de 2016)), Convertisseur (Mastervolt 2500 W (2015)), 3 Toilettes électriques.
Equipement de sécurité
Balise de détresse (Kannad avec GPS).
Divertissements
Antenne satellite TV (Glomex 60cm (2017)), TV (Ecran plat Sony).
Cuisine et appareils électromenagers
Congélateur (2016), Cuisine, Réfrigérateur extérieur, Machine à glaçons, Four micro-ondes (2018 combiné four traditionnel / micro onde), Plaque vitrocéramique.
Tapisserie
Bimini (Fly), Sellerie complète, Coussins arrieres, Coussin avant, Sellerie de fly.
Notes accessoires
Egalement

Electronique:
1 Navtex NASA
1 immersat C Thrane and Thrane
1 traceur Geonav 11 pouces couleur

Cuisine:
Hotte aspirante dans
Disclaimer
In this case we are acting as brokers only. The Vendor is not selling in the course of a business. Whilst every care has been taken in their preparation, the correctness of these particulars is not guaranteed. The particulars are intended only as a guide and they do not constitute a term of any contract. A prospective buyer is strongly advised to check the particulars and where appropriate at his own expense to employ a qualified Marine Surveyor to carry out a survey and / or to have an engine trial conducted, which if carried out by us shall not imply any liability for such engine on our part.
Note to seller and purchaser: If the boat you are selling or purchasing is registered, please ensure that the registration is completed after the sale of the boat. If the purchaser wishes to cancel the registration is the duty of the seller to contact the Registry and inform them that the registration is to be cancelled. If the purchaser wishes to continue with the registration, it is the duty of the purchaser to complete the relevant forms and post off the bill of sale to the Registrar.
Download the quick and full specifications for this boat in PDF format on the left. Please note that the PDF will open in a new window and will take a short time to download. The version including all boat pictures will take longer.
If you would like more information about this Guy Couach 185 Fly, please get in touch using the contact details below, or alternatively by using the contact form on the right.
Sunbird International Yacht Sales
Tel: +33 (0)9 82 35 09 80